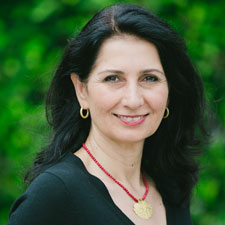 Katty Douraghy is an entrepreneur, facilitator, podcast host, and author. She is the President of Artisan Creative, a staffing and recruitment agency focusing on digital, creative, and marketing talent, and the Founder of Inspiring Hiring, an online resume and job posting portal. Katty is also a team and retreat facilitator, working closely with entrepreneurs to become better versions of themselves.
Raised in San Francisco, London, and Tehran, Katty brings a multicultural perspective to her interactions. She recently published her first book, The Butterfly Years: A Journey Through Grief Toward Hope, to share the lessons learned during a long period of grief and mourning that has led to a path towards help. She is currently working on her second project, bringing together her experience with grief and her background in facilitation to create a daily journal tentatively called Hope in Grief, to be released in 2021. She believes we all have a story to share, and that our greatest journey towards hope and healing is through self-reflection and self-discovery.
Here's a glimpse of what you'll learn:
How Katty Douraghy started working at Artisan Creative and how she manages her personal and professional life
How the 2008 economic downturn helped push Artisan Creative to go virtual
What inspired Katty to start Cre8action and Inspiring Hiring, and how did grief drive her to write The Butterfly Years: A Journey Through Grief Toward Hope?
What Katty is currently focused on and how growing up in various cities has helped her business interactions
Katty's mentor — and the most impactful advice she has received from him
Katty offers advice to women dealing with grief and talks about what she is currently curious about
How Entrepreneurs' Organization has impacted Katty's life
Katty talks about her superpower and shares her contact details
In this episode…
At some point in life, everyone goes through a phase of grief due to the loss of a loved one, be it a family member, a friend, or a work colleague. Every person's pain or experience of loss tends to be different from others, even if they all knew the deceased.
When Katty Douraghy lost very close members of her family, she went through a tough time and often judged herself harshly on whether or not she was grieving enough. In addition to this, she often compared herself to others. However, she soon came to realize that grieving does not have to be the same for everyone: it is okay to do it your own way.
Katty Douraghy, the President of Artisan Creative, joins Andrea Heuston in this episode of the Lead Like A Woman Show to talk about her experience and advice on dealing with grief. Katty also talks about writing her book, The Butterfly Years, and how being a member of Entrepreneurs' Organization has impacted her life.
Resources Mentioned in this episode
Sponsor for this episode…
This episode is brought to you by Artitudes Design by Andrea Heuston. Artitudes Design is an award-winning creative agency that has been creating visual communication for Fortune 500 companies for over 25 years. They have worked with notable companies such as Microsoft, Starbucks, Expedia, and have also served startups and nonprofit organizations.
They specialize in connecting speakers with audiences by creating visual value with presentations and through the creation of motion graphics, video, and content.
To learn more about Artitudes Design, visit their website today. Checkout their portfolio to see their previous projects, and contact them today to find out how they can help you bring your business a cut above the rest.