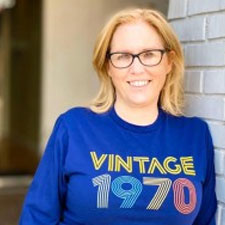 Jaci Russo is a brand strategist, author, podcast and radio host, and the co-founder & CEO of brandRUSSO, a strategic branding agency. Jaci began her career in Hollywood as a Junior Talent Agent at Creative Artists Agency working with clients such as Helen Hunt, David Letterman and Gwyneth Paltrow. After that, she worked as the Executive Assistant to Chairman and CEO Barry Diller, adding strategic value to his many companies including the Home Shopping Network and Ticketmaster.
Jaci has years of experience in branding and marketing on a national level and is a sought-after speaker on the topics of branding and social media. She has four children and is married to Michael Russo, co-founder and Creative Director of the agency they launched together in 2001.
Here's a glimpse of what you'll learn:
Why Jaci Russo and her husband, Michael, started brandRUSSO
Jaci explains what Razor BrandingTM refers to and what makes brandRUSSO different from other branding agencies?
Jaci shares what it's like to work with her husband and the biggest challenges that comes with her line of work
Jaci talks about how she got to work in Hollywood as a Junior Talent Agent
Jaci talks about Barry Diller and what it was like working as his Executive Assistant
Why Jaci decided to join the Goldsman Sachs program and get a PCM certification
The benefits of having an abundance mentality as opposed to a scarcity mentality
The mentors Jaci has had over the years and the best piece of advice she has received
Jaci's advice to women starting out in their careers and those looking to make changes in their careers
Jaci explains why her superpower is enthusiasm and how it has helped in her business
In this episode…
To be a successful entrepreneur, you have to be a lifelong learner and be willing to do more in order to grow. The mindset you have as your business grows is crucial because your beliefs and the way you think serves as either the nudge you need to push boundaries or the wall that limits you from moving forward.
Jaci Russo loves change and the uncomfortability that comes with it. Her daily mantra is 'check yourself before you wreck yourself' and she believes that it is only through suffering and being uncomfortable that one can open up space for self-improvement.
Join Andrea Heuston in this episode of Lead Like a Woman Show as she talks with Jaci Russo, Co-founder of brandRUSSO, about creative branding and the importance of having an abundance mentality. Jaci also shares why she and her husband, Michael Russo, started their own branding agency, what sets their agency apart from other players in the industry, what it's like to work in Hollywood, and how your mindset can be the key that sets you up for success. Stay tuned.
Resources Mentioned in this episode
Sponsor for this episode…
This episode is brought to you by Artitudes Design by Andrea Heuston. Artitudes Design is an award-winning creative agency that has been creating visual communication for Fortune 500 companies for over 25 years. They have worked with notable companies such as Microsoft, Starbucks, Expedia, and have also served startups and nonprofit organizations.
They specialize in connecting speakers with audiences by creating visual value with presentations and through the creation of motion graphics, video, and content.
To learn more about Artitudes Design, visit their website today. Checkout their portfolio to see their previous projects, and contact them today to find out how they can help you bring your business a cut above the rest.