[10KSB] There's No Someday on the Calendar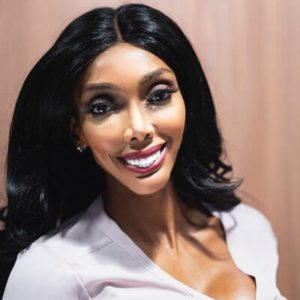 Erin Branche is a lifestyle expert who has merged her background in luxury hospitality with her passion for makeup into a successful lash and beauty brand. She is the Founder and CEO of Lash Bash and has a passion for lashes, beauty, and the latest trends. Lash Bash opened its first location in Philadelphia's Rittenhouse Square in 2015.
Erin Branche graduated from the University of Pennsylvania in 2006 with a B.A. in Communications and a post-graduate diploma in Hotel & Restaurant Management from École Hôtelière de Lausanne. She is a licensed aesthetician and a graduate of Esthiology from the Jean Madeline Institute of Philadelphia. She is certified in both classic and Russian volume lash extensions. Erin also recently completed the Goldman Sachs 10,000 Small Businesses incubator program.
Erin is active in her community and is passionate about the arts. She serves on the executive board of the Young Friends of the Philadelphia Museum of Art.
Here's a glimpse of what you'll learn:
Erin Branche talks about her entrepreneurial journey and how she started Lash Bash
Erin shares her plans for her business and why it's important for her team to connect with clients
What makes Lash Bash different from other eyelash companies?
Erin talks about the most challenging part of running Lash Bash and what she loves most about her work
What Erin wishes she knew when starting her business and what she learned from an early mistake she did in her business
Erin's thoughts on how the COVID-19 pandemic will affect the salon space
Erin discusses the new ideas and projects she came up with during the lockdown and her renewed connection with family
Why Erin's challenges and indecisions in her 20s were a big learning curve for her
Why "trust your heart" is the best piece of advice Erin has ever received
Erin's advice to fellow women leaders and entrepreneurs
Erin explains why her unlimited supply of energy and optimism is her superpower as a woman
In this episode…
Many female entrepreneurs and leaders have been working from home for these past few months because of the lockdowns that took effect as a result of the COVID-19 pandemic. This has given them a lot of time to think about their work, family, and future plans; and many of them say that despite working from home, they have found themselves to be more productive during the lockdown.
This has been the case for Erin Branche, who was able to sit down, research, and develop online courses which had taken a backseat to her numerous other projects over the years. She has also coined a new motto, 'there's no someday on the calendar' and the time she spent at home has allowed her to not only revisit shelved ideas, it has also allowed her to spend more time with her family.
In this episode, Andrea Heuston is joined by Erin Branche, Founder and CEO of Lash Bash to talk about her passion for beauty and luxury and the impact and power of determination. Erin shares how she started her entrepreneurial journey which led her to Lash Bash, the challenges she faced growing her business, and why it is very important for her to create quality connections with her clients. Stay tuned.
Resources Mentioned in this episode
Sponsor for this episode…
This episode is brought to you by Artitudes Design by Andrea Heuston. Artitudes Design is an award-winning creative agency that has been creating visual communication for Fortune 500 companies for over 25 years. They have worked with notable companies such as Microsoft, Starbucks, Expedia, and have also served startups and nonprofit organizations.
They specialize in connecting speakers with audiences by creating visual value with presentations and through the creation of motion graphics, video, and content.
To learn more about Artitudes Design, visit their website today. Check out their portfolio to see their previous projects, and contact them today to find out how they can help you bring your business a cut above the rest.