Perfect Is Boring!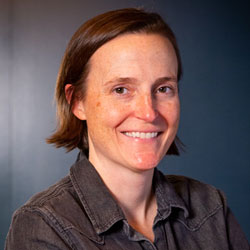 Laura Barnard is the Founder and Partner at BREAKTHRU Brands, a brand-building agency empowering women leaders to create personal and professional brands that break barriers. With two decades of experience in marketing and branding, she focuses her agency on building brands and guiding over 100 leaders to take action. Laura has led strategy for global brands such as HARIBO, Werther's, and Skittles and has contributed to advisory boards for emerging startups, including PWRFWD and Fork Food Lab.
Here's a glimpse of what you'll learn:
Laura Barnard talks about her transition from the corporate world to creating BREAKTHRU Brands
Laura's revolutionary moments in founding BREAKTHRU Brands
How Laura's background as a basketball captain influences her leadership style
What is the B.O.L.D. leadership approach?
Creating limitless possibilities in a limiting world
The importance of female leadership in today's society
Advice for building a personal brand
In this episode…
Studies show that women leaders facilitate innovation and drive measurable business results. Yet women are continuously denied leadership roles and struggle to receive equal opportunities, which suppresses confidence and determination. How can you discover your leadership style and enable boundless possibilities for other women?
Typically, vulnerability is perceived as a weakness. But Laura Barnard says that women who exhibit this trait foster meaningful connections and confidence by demonstrating that perfection is overvalued and restrictive. Laura has developed the B.O.L.D. leadership approach to inspire emerging leaders to make an impact. The framework involves displaying bravery, being outspoken in your efforts, communicating your message and ideas with intention, and differentiating yourself from the crowd.
Join Andrea Heuston in today's episode of the Lead Like a Woman Show as she hosts Laura Barnard, the Founder and Partner at BREAKTHRU Brands, to talk about building influential leaders. Laura explains the importance of female leadership in today's society, advice for creating a personal brand, and how to establish opportunities in a limiting world.
Resources Mentioned in this episode
Sponsor for this episode…
This episode is brought to you by Artitudes Design by Andrea Heuston. Artitudes Design is an award-winning creative agency that has been creating visual communication for Fortune 500 companies for over 25 years. They have worked with notable companies such as Microsoft, Starbucks, Expedia, and have also served startups and nonprofit organizations.
They specialize in connecting speakers with audiences by creating visual value with presentations and through the creation of motion graphics, video, and content.
To learn more about Artitudes Design, visit their website today. Checkout their portfolio to see their previous projects, and contact them today to find out how they can help you bring your business a cut above the rest.