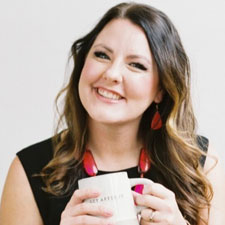 Kate Ahl is the Owner and Founder of Simple Pin Media, a Pinterest management company. Simple Pin Media helps clients focus on their businesses by taking over all aspects of Pinterest marketing. After working with over 600 Pinterest accounts, they've learned how to pin for all types of companies and niches. Kate has taught tens of thousands about Pinterest marketing through various speaking engagements and her podcast, The Simple Pin Podcast.
Here's a glimpse of what you'll learn:
Kate Ahl talks about how she came up with the idea of Simple Pin Media
How Kate bridged the gap to success
The differences between Instagram and Pinterest
What went right for Kate when building her business?
What does a CEO really do?
Why you shouldn't chase someone else's success
Kate shares her inspiring superpower
In this episode…
Before she started Simple Pin Media, Kate Ahl was facing complete poverty. Living on food stamps and running out of unemployment, Kate knew she had to make a change. A friend gave her the idea to manage Pinterest accounts, and Kate began investing in the opportunity. Now, the company has scaled to 38 employees, 120 clients, two memberships, and a podcast. How did Kate do it?
A major part of Kate's accomplishment was making sure that she didn't chase someone else's success. She got clear on who she serves — clients, the community, and customers — and stuck to it. Wherever you are in life, your path is your path. Just because you're different from somebody else doesn't mean you're not successful.
In this episode of the Lead Like a Woman Show, Andrea Heuston is in conversation with Kate Ahl, Founder and Owner of Simple Pin Media, about finding success for yourself. Kate shares the process of growing her business, how she pulled herself out of the center of the company, and her advice to honor your strengths. You don't want to miss this insightful episode!
Resources Mentioned in this episode
Sponsor for this episode…
This episode is brought to you by Artitudes Design by Andrea Heuston. Artitudes Design is an award-winning creative agency that has been creating visual communication for Fortune 500 companies for over 25 years. They have worked with notable companies such as Microsoft, Starbucks, Expedia, and have also served startups and nonprofit organizations.
They specialize in connecting speakers with audiences by creating visual value with presentations and through the creation of motion graphics, video, and content.
To learn more about Artitudes Design, visit their website today. Checkout their portfolio to see their previous projects, and contact them today to find out how they can help you bring your business a cut above the rest.