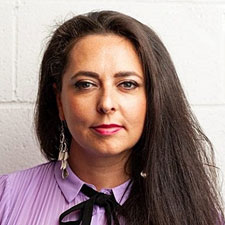 Marina Byezhanova is a Soviet-born, Ukraine-raised, and Canada-based entrepreneur, whose goal is to scale the reach of people's voices. Growing up, she experienced what it was like to not have a voice. Her life's mission is to inspire people to own their narrative.
As Co-founder of a personal branding agency called Brand of a Leader, Marina has been quoted and referenced in publications such as Inc., Forbes, Fast Company, Success Magazine, Wall Street Journal, and The Financial Post. She has spoken to audiences of entrepreneurs and business executives in North America, Asia, Europe, and the Middle East. Marina is a proud member of Entrepreneurs' Organization (EO) and is presently the Canadian Social Media Expert serving on the regional board of directors.
Here's a glimpse of what you'll learn:
How Marina Byezhanova's companies help people find their voice and stand out
Why Marina founded Pronexia, InfluenceHR, and Brand of a Leader
What went right for Marina when she started her companies
How Andrea Heuston has been building her business around her 'why'
Marina explains what focusing on radical authenticity means to her
What drives Marina to help entrepreneurs stand out through personal branding?
Marina explains how she migrated to Canada and how she leads like a woman
The most impactful piece of advice Marina has received from a mentor and her advice to women trying to find their voice
Marina's superpower and contact details
In this episode…
Marina Byezhanova, a serial entrepreneur, lives her life and builds her businesses centered around authenticity. She believes in the power of being yourself, being unique, and accepting who you are. However, this was not always the case.
When Marina moved to Canada from Ukraine, she wanted to fit in with the young people in her new environment. She changed her lifestyle, way of dressing, and even her hairstyle just to fit in. However, she later realized that she was unique — and fitting in was not as important as she thought. Marina went on to start and build three companies and always ensured that she focused on authenticity, the companies' culture, and core values, even if at times she lost clients because of that.
In this episode of the Lead Like A Woman Show, Andrea Heuston is joined by Marina Byezhanova, the Co-founder of Brand of a Leader, to discuss the importance of being an authentic leader. They also talk about the importance of building a business around a culture, being guided by core values, and why entrepreneurs should understand their 'why' for going into business.
Resources Mentioned in this episode
Sponsor for this episode…
This episode is brought to you by Artitudes Design by Andrea Heuston. Artitudes Design is an award-winning creative agency that has been creating visual communication for Fortune 500 companies for over 25 years. They have worked with notable companies such as Microsoft, Starbucks, Expedia, and have also served startups and nonprofit organizations.
They specialize in connecting speakers with audiences by creating visual value with presentations and through the creation of motion graphics, video, and content.
To learn more about Artitudes Design, visit their website today. Checkout their portfolio to see their previous projects, and contact them today to find out how they can help you bring your business a cut above the rest.