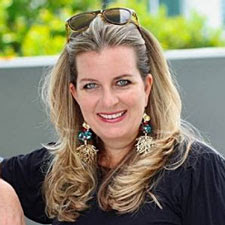 Luly B. is a business strategist, speaker, coach, mother, and best-selling Amazon author on a mission to help women define success on their own terms. She is a feisty Cuban-American mom and entrepreneur with 20 years of experience in marketing strategy, business consulting, and leadership.
Drawing from her experience in the nonprofit, academic, and corporate sectors as well as her own entrepreneurial journey, Luly supports women who wear a ton of hats to get over the guilt, self-doubt, and fear that stops them from truly living happy lives. She helps them create businesses around their lifestyle and family priorities while making an impact on their clients and community. She is blessed to share her message of empowerment, leadership, and confidence with thousands of women all around the country, including clients and partners like Procter & Gamble, Macy's, and Dell.
Here's a glimpse of what you'll learn:
Luly B. explains why she started her own business, Luly B. Inc., and why she named the first brand Chispa Marketing
The success of Luly's SPARK event
How Andrea and Luly met — and how they've been working together
How Luly's core values play a role in her business and personal life
Luly talks about her BOOST Community, shares her experience dancing at an event, and explains how she deals with her own feelings of being too much
The best piece of advice Luly has received from a mentor, and her advice to women feeling lost
Luly's superpower and contact details
In this episode…
Oftentimes, women fail to achieve their goals and attain the success they desire because of fear. They fear asking for what they want, going after their dreams, and facing reception from others. However, it's vital that women remember they're not going through the journey alone. It's important to seek out a support group, celebrate the women inside (and outside) your circle, and acknowledge the expressions of love and appreciation around you.
But how do you fully receive the love and gratitude that's being given? Luly B. is here to help. Luly guides women to connect with one another and build supportive communities. Through her BOOST Community, she helps women network, share their gifts, learn to be more confident, learn from one another, and create the type of business and life they desire.
Luly B., a business strategist and speaker, is Andrea Heuston's guest in this episode of the Lead Like A Woman Show where she talks about leadership and building a community of supportive women. Luly also discusses her core values, her superpower of connection, and shares her experiences as an entrepreneur and speaker. Stay tuned.
Resources Mentioned in this episode
Sponsor for this episode…
This episode is brought to you by Artitudes Design by Andrea Heuston. Artitudes Design is an award-winning creative agency that has been creating visual communication for Fortune 500 companies for over 25 years. They have worked with notable companies such as Microsoft, Starbucks, Expedia, and have also served startups and nonprofit organizations.
They specialize in connecting speakers with audiences by creating visual value with presentations and through the creation of motion graphics, video, and content.
To learn more about Artitudes Design, visit their website today. Checkout their portfolio to see their previous projects, and contact them today to find out how they can help you bring your business a cut above the rest.