Brea Starmer is the Founder and CEO of Lions & Tigers, an award-winning professional staffing and workforce solutions partner. As a model of workplace flexibility and equity, Lions & Tigers was recognized as Microsoft's Diverse-Owned Supplier of the Year and Puget Sound Business Journal's Best Workplaces in Washington. Brea advises on numerous boards, including Women in Cloud and WECAN (Women Executive Channel Advisory Network). As an advocate for systemic work evolution, she speaks and coaches on workforce design, flexibility, and the future of work.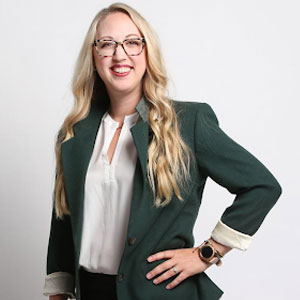 Here's a glimpse of what you'll learn:
Brea Starmer's impetus for Lions & Tigers
How Brea nurtured high-impact professionals to build a brand, culture, and community
The value of independent work
Brea talks about her efforts to advocate for integrated work environments
Cultivating workplace value in a fluctuating labor market
How does Lions & Tigers support women in the workplace?
In today's unpredictable labor market, large corporations resort to laying off some full-time executives. Additionally, many women desire flexible, autonomous work environments allowing them to balance multiple roles simultaneously. How can you comply with these demands while maintaining your company's bottom line?
As an advocate for independent and unified workspaces, Brea Starmer helps women and other underrepresented groups discover their ideal styles by dismantling the stigma surrounding unconventional work. She encourages businesses to establish a culture operating system that motivates employees to operate at their highest caliber. This necessitates leveraging agency partnerships to outsource diverse talent and align them with meaningful work that suits their skills and promotes career development, innovation, and retention.
In today's episode of the Lead Like a Woman Show, Brea Starmer, the Founder and CEO of Lions & Tigers, joins Andrea Heuston for a conversation about independent and blended workplaces. Brea explains how she nurtures high-performing professionals to foster unity, how she advocates for independent and integrated work environments, and how Lions & Tigers supports women and BIPOC individuals in the workplace.
Resources Mentioned in this episode
Sponsor for this episode…
This episode is brought to you by Artitudes Design by Andrea Heuston. Artitudes Design is an award-winning creative agency that has been creating visual communication for Fortune 500 companies for over 25 years. They have worked with notable companies such as Microsoft, Starbucks, Expedia, and have also served startups and nonprofit organizations.
They specialize in connecting speakers with audiences by creating visual value with presentations and through the creation of motion graphics, video, and content.
To learn more about Artitudes Design, visit their website today. Checkout their portfolio to see their previous projects, and contact them today to find out how they can help you bring your business a cut above the rest.