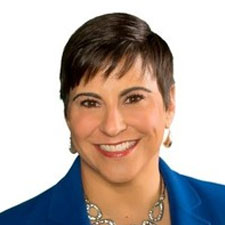 Dana Manciagli is an author and the President of Job Search Masterclass, the leading job search workshop with instruction, templates, and tools that job seekers need to apply and interview with confidence, that will make them irresistible to employers and land a great job in record time. She has been a corporate executive for more than 30 years and has leveraged her employee hiring and management experience into that of an author, trainer, private career coach, and online curriculum expert. She has had a remarkable career in global sales and marketing roles in Fortune 500 corporations.
Retired from over a decade's tenure at Microsoft as worldwide sales general manager, Dana has also previously worked for Kodak as VP of worldwide marketing and climbed the corporate career ladder through Sea-Land, Avery Dennison, and IBM. Named a top "Women of Influence" in Seattle, she lives and works in Puget Sound where she serves on the Worldwide Board of Junior Achievement. She is also a breast cancer conqueror and received her MBA at the Thunderbird School of Global Management in Arizona.
Here's a glimpse of what you'll learn:
What inspired Dana Manciagli to go out on her own and write the book Cut the Crap, Get a Job
Why Dana started the Job Search Master Class curriculum
The ideal clients for Job Search Masterclass and how Dana finds new clients
The B2B aspect of Job Search Master Class
The most challenging part of Dana's job and what she loves most about it
Dana shares her experience with battling cancer alongside her twin sister and what she learned from the experience
Dana talks about her passion for sharing information, helping others, and making the right choices
Dana discusses the value of being resilient, her advice to fellow women and why her superpower is optimism
How to get in touch with Dana Manciagli
In this episode…
Most people understand resilience as bouncing back to who you were before, but for Dana Manciagli, it means learning and not settling with being a mere victim. This means being sensitive to other people, making the right choices, and being courageous enough to say "no".
However, women often inhibit their own success and allow their stories to get in their way. They fear being ambitious, asking for an increase, and aiming higher. All of these limiting thoughts hinder women's progress and prevent them from having a remarkable career.
In this week's episode of Lead Like A Woman, Andrea Heuston is joined by Dana Manciagli, President of Job Search Masterclass, to talk about being resilient, aiming higher, and how she helps job candidates score the best jobs through her masterclass. Dana also shares how she battled breast cancer alongside her twin sister and how she came up with her masterclass curriculum. Stay tuned.
Resources Mentioned in this episode
Sponsor for this episode…
This episode is brought to you by Artitudes Design by Andrea Heuston. Artitudes Design is an award-winning creative agency that has been creating visual communication for Fortune 500 companies for over 25 years. They have worked with notable companies such as Microsoft, Starbucks, Expedia, and have also served startups and nonprofit organizations.
They specialize in connecting speakers with audiences by creating visual value with presentations and through the creation of motion graphics, video, and content.
To learn more about Artitudes Design, visit their website today. Checkout their portfolio to see their previous projects, and contact them today to find out how they can help you bring your business a cut above the rest.