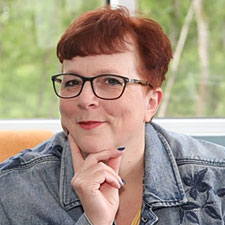 Tracey Warren is a Community and Engagement Specialist and the Founder and CEO of InSpark Coworking, a collaborative workspace for entrepreneurs, freelancers, and remote workers. She is known as the connection queen and shows women entrepreneurs how to create amazing content that can help build a thriving community with ease.
Tracey is also an author, truth-teller, community creator, and authentic speaker. She is a bold example of how authenticity and vulnerability can be a huge asset for entrepreneurs who want to build community. Whatever trail she blazes and every journey she travels, including her recent victory over breast cancer, she shows up fully as herself. She wants you to know that you can too.
Here's a glimpse of what you'll learn:
What inspired Tracey Warren to create InSpark, a co-working space
The types of people InSpark serves and the solutions they provide
Why Tracey created Ignite Your Champions and the women she works with
Tracey explains what went right for her when she started her businesses and talks about the gift of being imperfect
Tracey discusses her journey of beating breast cancer and writing the book, Ignite Your Champions
The value of having a positive mentality and understanding yourself
The most impactful piece of advice Tracey has ever received
What Tracey is currently curious about, her superpower, and contact details
In this episode…
For someone who has built successful businesses, Tracey Warren knows that it is okay not to care what other people think. She also knows how important it is to understand yourself and the people you serve.
However, this does not come easily for most people — especially women. They fail to realize that being leaders sometimes requires them to make independent decisions without worrying about what others say or think. It is perfectly okay not to agree with everybody. Tracey advises women to give themselves permission not to care what other people think and to be comfortable with who they are.
In this episode of the Lead Like A Woman Show, Andrea Heuston interviews Tracey Warren, the Founder and CEO of InSpark Coworking, to talk about building an engaging community and creating value your way. Tracey also talks about her Ignite Your Champions business, her new book, and her experience battling breast cancer. Stay tuned.
Resources Mentioned in this episode
Sponsor for this episode…
This episode is brought to you by Artitudes Design by Andrea Heuston. Artitudes Design is an award-winning creative agency that has been creating visual communication for Fortune 500 companies for over 25 years. They have worked with notable companies such as Microsoft, Starbucks, Expedia, and have also served startups and nonprofit organizations.
They specialize in connecting speakers with audiences by creating visual value with presentations and through the creation of motion graphics, video, and content.
To learn more about Artitudes Design, visit their website today. Checkout their portfolio to see their previous projects, and contact them today to find out how they can help you bring your business a cut above the rest.