Jeanette Nyden is a contract negotiations expert, lawyer, and professor. Since 2003, she has been helping buy and sell-side professionals master the contracting lifecycle, from drafting and negotiating to contract management. Her legal expertise spans over 25 years, during which she established herself as an authority in the contracts and bankruptcy niche.
As an Adjunct Professor at Seattle University, Jeanette teaches negotiation courses to undergraduate and graduate students in the business school. She is also the co-author of The Contract Professional's Playbook, Getting to We, The Vested Outsourcing Manual, and Negotiation Rules.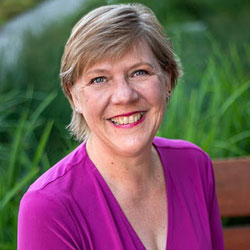 Here's a glimpse of what you'll learn:
How Jeanette Nyden became a contract negotiation expert
What led to the success of Jeanette's business?
Jeanette talks about teaching negotiation and creating The Contract Professional's Playbook
The value of being agile
The RFX Response Mastery program for sales professionals
How Jeanette leads like a woman
The best piece of advice Jeanette has received from a mentor
How Jeanette uses her superpower to empower others
Carving out your path to success can be a challenge if you constantly compare yourself to others. You have your own journey to make, so it is essential to give yourself permission to be you.
Jeanette Nyden, an experienced lawyer and contract negotiations expert, advises people to embrace who they are. Be authentic, confident, and take the necessary steps to improve your skills. You don't have to change to be like someone else. As Jeanette explains, "You need to understand your why." Find a purpose, and step in to fill a gap.
In this episode of the Lead Like a Woman Show, Andrea Heuston is joined by Jeanette Nyden, a contract negotiation expert, to talk about negotiation tactics and Jeanette's work in empowering others. They also discuss how the pandemic impacted businesses, the value of being agile, and Jeanette's books and upcoming programs.
Sponsor for this episode…
This episode is brought to you by Artitudes Design by Andrea Heuston. Artitudes Design is an award-winning creative agency that has been creating visual communication for Fortune 500 companies for over 25 years. They have worked with notable companies such as Microsoft, Starbucks, Expedia, and have also served startups and nonprofit organizations.
They specialize in connecting speakers with audiences by creating visual value with presentations and through the creation of motion graphics, video, and content.
To learn more about Artitudes Design, visit their website today. Checkout their portfolio to see their previous projects, and contact them today to find out how they can help you bring your business a cut above the rest.