Christina Harbridge is a behaviorist, keynote speaker, and the CEO of Allegory, Inc., a behavioral leverage company partnering with organizations and their leaders to amplify their abilities to work with and through others. She has partnered with neurobiologists, behavioral and data scientists, physicians, and artists to apply rigor to behavioral data. As an artist and storyteller, Christina served on the founding board of Emerge America and as chair of the Global Leadership Conference. She is the author of Swayed, which covers deliberate and nuanced storytelling methods.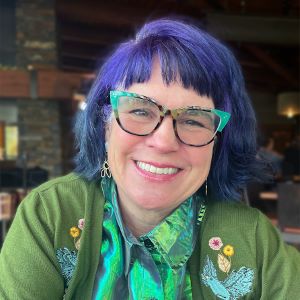 Here's a glimpse of what you'll learn:
Christina Harbridge's impetus for pursuing entrepreneurship
Christina shares how she transformed the debt-collecting process to foster a culture of humanity
How Christina founded Allegory to enhance relationship-building
The power of authentic vulnerability 
What value has Christina obtained from EO (Entrepreneurs' Organization)?
How Swayed teaches storytelling techniques based on physiology
Christina talks about her passion to advocate for women in politics
In leadership positions, men often extinguish or appropriate women's ideas and characteristics. Consequently, women leaders become subdued, withholding their struggles and hiding parts of themselves that make them unique. How can you exhibit your authenticity to promote self-acceptance and build healthy relationships?
Traditional capitalist cultures suppress nuanced communication, reducing honest storytelling to an ingenuine marketing strategy. Behaviorist and master storyteller Christina Harbridge says synthetic communication is not viable and advocates for transparency and authentic vulnerability instead. This involves embracing your imperfections and strengths to gain the confidence to advocate for yourself and others. 
Andrea Heuston joins Christina Harbridge, CEO of Allegory, Inc., in today's episode of the Lead Like a Woman Show to talk about displaying authenticity and leading with strength. Christina shares how she fostered a culture of humanity through her debt-collection business, her passion for encouraging women to run for government positions, and the power of authentic vulnerability.
Resources Mentioned in this episode
Sponsor for this episode…
This episode is brought to you by Artitudes Design by Andrea Heuston. Artitudes Design is an award-winning creative agency that has been creating visual communication for Fortune 500 companies for over 25 years. They have worked with notable companies such as Microsoft, Starbucks, Expedia, and have also served startups and nonprofit organizations.
They specialize in connecting speakers with audiences by creating visual value with presentations and through the creation of motion graphics, video, and content.
To learn more about Artitudes Design, visit their website today. Checkout their portfolio to see their previous projects, and contact them today to find out how they can help you bring your business a cut above the rest.