You Can Make Anything Happen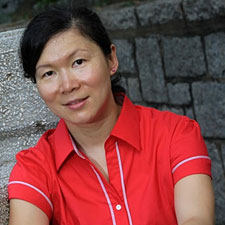 Lei Wang is an executive coach, speaker, and mountain climber. As the first Asian woman to complete the Explorers Grand Slam, Lei has been a sought-after international motivational speaker since 2010. She has inspired people around the world to dream big and achieve a fulfilling life that is truly exciting. As a coach, Lei helps business leaders accelerate their career to exciting new heights with ease and grace, lead their organizations to make bigger impacts, and connect deeper with the communities they serve.
In 2004, Lei, who grew up as a Beijing city girl with no athletic training, set out to climb Mt. Everest. She was on a promising career track in finance with an MBA from Wharton. But she was excited about proving that an ordinary person could climb Everest. That excitement empowered her discovery, and she found that excitement is the driving force that motivates and empowers every one of us — and it's the secret to innovation, peak performance, and extraordinary achievement. Today, as a coach, speaker, author, and adventurer, she travels the world to ascend new summits and empower individuals and organizations to dream big, take a leap of faith, and tap into the power of excitement to realize their potential and move mountains.
Here's a glimpse of what you'll learn:
What inspired Lei Wang to start a coaching business?
How Lei uses the power of excitement when coaching clients
Lei talks about her motivation for climbing Mt. Everest, how she trained for the climb, and how much it cost
Lei's experience completing the Explorers Grand Slam
What Lei has learned about herself over the years
How Lei's life lessons inspired her to write a book
Lei's advice on leading like a woman and tapping into the power of excitement
The counsel that has had a big impact on Lei's life
Lei's superpower and contact details
In this episode…
Climbing to the top of the tallest mountains in each of the continents is not an easy thing to do, and very few people have succeeded in doing that. One of those people is Lei Wang, who did not even grow up with athletic training.
Some of the best life lessons Lei learned were from her experience climbing mountains — as well as from her failures and mistakes. They helped her make better decisions in both her personal life and professional life. She learned that she has the power to change her life and make things happen, and now she's sharing these lessons with others.
In this episode of the Lead Like A Woman Show, Andrea Heuston is joined by Lei Wang, an executive coach and mountain climber, to talk about ascending new summits in life and business. Lei shares her experience preparing for and climbing Mt. Everest, participating in the Explorers Grand Slam, and how she guides others to reach new heights through her coaching business. Stay tuned.
Resources Mentioned in this episode
Sponsor for this episode…
This episode is brought to you by Artitudes Design by Andrea Heuston. Artitudes Design is an award-winning creative agency that has been creating visual communication for Fortune 500 companies for over 25 years. They have worked with notable companies such as Microsoft, Starbucks, Expedia, and have also served startups and nonprofit organizations.
They specialize in connecting speakers with audiences by creating visual value with presentations and through the creation of motion graphics, video, and content.
To learn more about Artitudes Design, visit their website today. Checkout their portfolio to see their previous projects, and contact them today to find out how they can help you bring your business a cut above the rest.