[Women of EO Series] Ready Aim Fire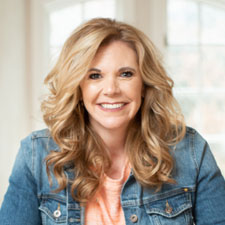 Dr. Cortney Baker is an award-winning entrepreneur, host of The Women in Business podcast, TEDx speaker, and a nationally-recognized authority on women's leadership. She's been featured on Fox News, Forbes, iHeartRadio, and Huffington Post, among other publications. As a leadership expert, mentor, business coach to female entrepreneurs and mother of three, she is passionate about empowering women to close the gender gap through the power of entrepreneurship.
Dr. Cortney Baker is also the author of the best selling book The 10 Dos and Don'ts for Business Leadership: Lessons to Lead Effectively and her most recent book Unlimited: Conquering the Myth of the Glass Ceiling. She was named the 2016-2017 Texas Businesswoman of the Year and the top 100 in HealthCare in America. She's the Founder and CEO of KidsCare Home Health, a multi-million dollar healthcare organization with 11 locations across Texas, Colorado and Idaho. She holds a Doctor of Education (Ed.D.) in Organizational Leadership from Pepperdine University, where she concentrated her studies on understanding and advancing women to the highest levels of leadership.
Here's a glimpse of what you'll learn:
Dr. Cortney Baker recalls her entrepreneurship journey and how it led to the founding of KidsCare Home Health
Why Dr. Baker decided to start a podcast and go into mentorship
Dr. Baker explains how women are holding other women back
Dr. Baker shares the before and afters of her life and how she fought her way through them
Dr. Baker talks about being a TEDx speaker and becoming a painter
What most people don't know about Dr. Baker and her vision behind the Scaling Society community
Dr. Baker reveals a big mistake she made in business and what she is most curious about right now
Dr. Baker's advice to fellow women entrepreneurs and leaders
Dr. Baker explains why she thinks that her superpower is her capacity to speak the truth in love
How to get in touch with Dr. Cortney Baker
In this episode…
When a young lady approached Dr. Cortney Baker after an event and asked Dr. Baker to be her mentor, she readily agreed because she is a big advocate of women supporting other women. Dr. Baker mentored the young lady who ended up achieving much success in her career and eventually starting her own business. And so being an award-winning entrepreneur and leader, Dr. Baker decided to take up coaching to be able to help other women in their entrepreneurship and leadership roles.
In this week's episode of the Lead Like a Woman Show, Andrea Heuston talks with Dr. Cortney Baker about the importance of women mentoring and supporting each other, the before and afters in Dr. Baker's life, and why women don't need to have it all to be happy and successful. Stay tuned.
Resources Mentioned in this episode
Sponsor for this episode…
This episode is brought to you by Artitudes Design by Andrea Heuston. Artitudes Design is an award-winning creative agency that has been creating visual communication for Fortune 500 companies for over 25 years. They have worked with notable companies such as Microsoft, Starbucks, Expedia, and have also served startups and nonprofit organizations.
They specialize in connecting speakers with audiences by creating visual value with presentations and through the creation of motion graphics, video, and content.
To learn more about Artitudes Design, visit their website today. Checkout their portfolio to see their previous projects, and contact them today to find out how they can help you bring your business a cut above the rest.