[Women of EO] Be a Finisher!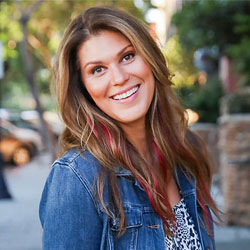 Helena Gibson is a serial entrepreneur, author, podcaster, and the Founder and CEO of The 7-Figure Salon and STRUT Hair Solutions. Her parlay into entrepreneurship began with an auto repair shop, Manhattan Motors, back in 2002. After she saw her mother struggling with hair loss, she completely changed paths. Helena watched her mom look for solutions to her hair loss and realized others were struggling too, and that's when she started STRUT Hair Solutions.
Fast forward to almost 20 years of being in the hair loss industry. Helena has done everything from styling celebrities' hair to writing a book about hair to being an educator for top hair replacement manufacturers. She has done it all, including new products, new types of extensions, the latest wig crazes, and DIY hacks. Helena started noticing gaps in the industry, so she created a new product line — Unveil Restorative Hair Care. From the services business to the creation of a product line, Helena is constantly looking for new solutions.
Here's a glimpse of what you'll learn:
How Helena Gibson's mother inspired the founding of STRUT Hair Solutions
What went right when Helena started her business?
Why Helena became an educator and started The 7-Figure Salon and Unveil Restorative Hair Care
Helena's future plans
The emotional benefits of Unveil Restorative Hair Care products
The power of perseverance
The best piece of advice Helena has received
Helena's superpower
In this episode…
What drives your entrepreneurial spirit? How can you use empathy to provide better solutions to your customer's needs?
Building a successful business takes time. You will face many challenges, so you must develop patience, persistence, and resilience. As a successful entrepreneur, Helena Gibson's advice is to stay ahead of the curve and take control of what you can. Take care of yourself, run your businesses guided by your values, and be willing to help others. These are the strategies Helena uses to scale her businesses.
In this episode of the Lead Like a Woman Show, Andrea Heuston is joined by Helena Gibson, a serial entrepreneur, author, podcaster, educator, and the Founder and CEO of The 7-Figure Salon and STRUT Hair Solutions, to talk about using empathy to solve customers' problems. Helena explains why she started her businesses, her future plans, and the power of perseverance.
Resources Mentioned in this episode
Sponsor for this episode…
This episode is brought to you by Artitudes Design by Andrea Heuston. Artitudes Design is an award-winning creative agency that has been creating visual communication for Fortune 500 companies for over 25 years. They have worked with notable companies such as Microsoft, Starbucks, Expedia, and have also served startups and nonprofit organizations.
They specialize in connecting speakers with audiences by creating visual value with presentations and through the creation of motion graphics, video, and content.
To learn more about Artitudes Design, visit their website today. Checkout their portfolio to see their previous projects, and contact them today to find out how they can help you bring your business a cut above the rest.