Walking Each Other Home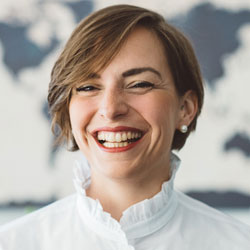 Franziska Gonder is a Somatic Leadership Coach and Founder of Leadership That Heals The World and Bravespace. She has experience advising startups, VC investors, and Fortune 500 companies on operations, culture, HR, and leadership. For 15 years, Franziska has combined entrepreneurial problem-solving, collaborative technology, and human-centered design to help individuals and teams discover and achieve their potential. Her work has been featured in Forbes, TheNextWeb, Philanthropy, and HuffPost. After losing her father in 2013, Franziska began leading with belonging, safety, and dignity — and now she helps others do the same.
Here's a glimpse of what you'll learn:
Franziska Gonder shares her motivation for transitioning into somatic leadership
What is neuro-linguistic programming (NLP), and how can you utilize it?
Franziska's interpretation of "up and to the right"
Franziska talks about her podcast, Leadership that Heals the World
Merging radical self-inquiry with somatic intelligence to create a brave space
How being a boy mom influences Franziska's coaching style — and advice that's impacted her
In this episode…
Traditional Western cultures glamorize the hustling lifestyle, where entrepreneurs and leaders work continuously while disregarding their emotions. But childhood and other traumas shape leadership styles greatly. Today's guest empowers entrepreneurs to create a healthy balance between work and life while cultivating impactful leadership.
Franziska Gonder advocates for a sense of belonging, safety, and dignity. These feelings can become disrupted due to physical, emotional, or mental stressors, consequently putting the nervous system into overdrive and compromising your leadership. Through a combination of neuro-linguistic programming, self-inquiry, and somatic coaching, Franziska helps leaders reflect on their traumas and take accountability for their actions. When you give yourself grace, you can support others in their journeys.
In this episode of the Lead Like a Woman Show, Andrea Heuston chats with Franziska Gonder, Somatic Leadership Coach and Founder of Leadership That Heals The World and Bravespace, about leading with compassion and accountability. Franziska also discusses why she transitioned into somatic leadership, how to utilize neuro-linguistic programming, and the negative influence of "up and to the right" mindsets.
Resources Mentioned in this episode
Sponsor for this episode…
This episode is brought to you by Artitudes Design by Andrea Heuston. Artitudes Design is an award-winning creative agency that has been creating visual communication for Fortune 500 companies for over 25 years. They have worked with notable companies such as Microsoft, Starbucks, Expedia, and have also served startups and nonprofit organizations.
They specialize in connecting speakers with audiences by creating visual value with presentations and through the creation of motion graphics, video, and content.
To learn more about Artitudes Design, visit their website today. Checkout their portfolio to see their previous projects, and contact them today to find out how they can help you bring your business a cut above the rest.