Trust That the World Has a Lot in Store for You!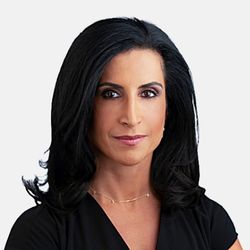 Mori Taheripour is a negotiation expert, globally recognized and highly sought-after speaker, and award-winning educator. She has worked with some of the most iconic sports leagues and Fortune 100 corporations over the past 20 years. She also teaches negotiation and dispute resolution at the Wharton School of the University of Pennsylvania and is a seven-time recipient of awards for excellence in teaching.
Mori's work has been featured in top business publications and media outlets including ESPN, Forbes, Inc., and NPR. She is also a contributor to sports discussions on SiriusXM's Wharton Business Daily. Some of her current and past clients include the Goldman Sachs Foundation, Major League Baseball, National Basketball Players Association, National Football League, the Timberland company, United Parcel Service, Wasserman, Wells Fargo, and the White House Fellows Program. In March of 2020, Mori's first book, Bring Yourself: How to Harness the Power of Connection to Negotiate Fearlessly was published by Penguin Random House.
Here's a glimpse of what you'll learn:
Mori Taheripour explains why she created MT Global Strategies
What Mori teaches about negotiation — and what went right for her when she started MT Global Strategies
Why women need to honor themselves and do what makes them happy
How running a healthcare consulting firm prepared Mori for her current role
Mori talks about teaching negotiation to people in the sports world and her journey writing a book
The value of trusting and taking advantage of new opportunities
Mori talks about her superpower, her contact details, and her advice on embracing chaos and uncertainty
In this episode…
In the course of building a business or becoming a leader, women often receive advice from others who have gone through the same experiences as them. However, most women aren't aware of their great qualities and don't realize that others see these great qualities as well.
Just because you don't see your value, doesn't mean it doesn't exist. Mori Taheripour advises women to trust in themselves and trust that the world has a lot in store for them. Fearlessly go after new opportunities as they arise, because they could lead to great success and achievements.
In this episode of the Lead Like A Woman Show, Andrea Heuston is joined by Mori Taheripour, a negotiation expert, to talk about negotiation skills and empowering women to become better. Mori also talks about the value of following the road less traveled, the mission of her book, and explains how negotiation helps in finding a person's voice. Stay tuned.
Resources Mentioned in this episode
Sponsor for this episode…
This episode is brought to you by Artitudes Design by Andrea Heuston. Artitudes Design is an award-winning creative agency that has been creating visual communication for Fortune 500 companies for over 25 years. They have worked with notable companies such as Microsoft, Starbucks, Expedia, and have also served startups and nonprofit organizations.
They specialize in connecting speakers with audiences by creating visual value with presentations and through the creation of motion graphics, video, and content.
To learn more about Artitudes Design, visit their website today. Checkout their portfolio to see their previous projects, and contact them today to find out how they can help you bring your business a cut above the rest.