Show Your Worth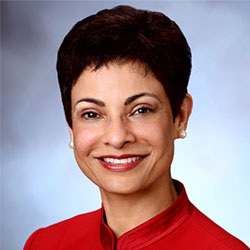 Shelmina Abji is a TEDx speaker, board member, former Vice President at IBM, author, and angel investor. She started her career as a software engineer and then moved into sales and sales leadership, guiding global teams to deliver over $1B in annual revenue and serving as a key decision-maker in hiring and promoting hundreds of professionals.
Shelmina received extensive leadership training at IBM, Harvard University, and UCLA. As a global empowerment speaker, she has addressed attendees at companies, conferences, and colleges that include Google, Edward Jones, National Center for Women in Technology, Black women in STEM, and Harvard.
Here's a glimpse of what you'll learn:
How Shelmina Abji transitioned from the tech industry to being a speaker
Shelmina discusses strategies from her book, Show Your Worth: 8 Intentional Strategies for Women to Emerge as Leaders at Work
How to intentionally create value as a leader
Shelmina explains the concept of "the power of quotient"
The most impactful piece of advice Shelmina has received from a mentor
Shelmina's superpower and how to get in touch with her
In this episode…
How do you show up as a leader? How can you be intentional in your leadership to advance in your career (and help others advance too)?
Shelmina Abji advises women to focus their attention on eight intentional strategies that will help transform their careers. These intentional methods include being strategic in your leadership journey, learning how to overcome obstacles, being intentional in your personal growth, and creating more value for others.
In this episode of the Lead Like A Woman Show, Andrea Heuston is joined by Shelmina Abji, a TEDx speaker and author, to discuss strategies for intentional leadership. Shelmina shares her career background, explains the concept of "the power of quotient," and talks about her book, Show Your Worth.
Resources Mentioned in this episode
Sponsor for this episode…
This episode is brought to you by Artitudes Design by Andrea Heuston. Artitudes Design is an award-winning creative agency that has been creating visual communication for Fortune 500 companies for over 25 years. They have worked with notable companies such as Microsoft, Starbucks, Expedia, and have also served startups and nonprofit organizations.
They specialize in connecting speakers with audiences by creating visual value with presentations and through the creation of motion graphics, video, and content.
To learn more about Artitudes Design, visit their website today. Checkout their portfolio to see their previous projects, and contact them today to find out how they can help you bring your business a cut above the rest.