Never Fear Failure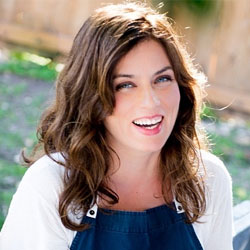 Tim McDiarmid is the Founder and Owner of The Good Kind Hospitality Group. The world traveler who is Canadian by birth and resides in San Antonio provides culinary and artistic creations that fit perfectly with any type of event. As a serial entrepreneur, Tim specializes in running multiple business endeavors. Her first company, Tim the Girl, combines bespoke catering and event planning. She also operates The Good Kind, a modern market and cafe which builds on Tim the Girl's vision of providing her community with food that is clean, nourishing, sustainable, and delicious.
Tim also owns an event venue, Ivy Hall, which is a beautiful garden space that hosts weddings, birthdays, corporate events, and more. After many years in business, she is sharing her knowledge and providing guidance through the Bravery Strategy, a coaching and consulting business for aspiring entrepreneurs.
Here's a glimpse of what you'll learn:
How Tim McDiarmid joined the culinary and hospitality industries
What went right for Tim when she started her business?
How Tim supports women through her organization
Tim explains why she started a business serving clean food in Texas
Tim's experience as a chef on the show Chopped
How Tim's new program "Bravery Strategy" will support entrepreneurs
The most impactful piece of advice Tim has received from a mentor
Tim's superpower and contact details
In this episode…
How much freedom do you want in your life? What strategies can you use to gain more freedom financially, in your business, or in your personal life?
According to Tim McDiarmid, everyone is capable of finding freedom. However, you have to be willing to take big risks to achieve this freedom and gain success. Tim, who has gone through similar challenges to find freedom, advises entrepreneurs to embrace failure, be authentic in their professional careers, and learn how to make the right choices.
Tim McDiarmid, the Founder and Owner of The Good Kind Hospitality Group, joins Andrea Heuston in this episode of the Lead Like a Woman Show to talk about her experience building a business in the hospitality industry. Tim explains how she supports women through her business, her experience on the show Chopped, and her new program for entrepreneurs.
Resources Mentioned in this episode
Sponsor for this episode…
This episode is brought to you by Artitudes Design by Andrea Heuston. Artitudes Design is an award-winning creative agency that has been creating visual communication for Fortune 500 companies for over 25 years. They have worked with notable companies such as Microsoft, Starbucks, Expedia, and have also served startups and nonprofit organizations.
They specialize in connecting speakers with audiences by creating visual value with presentations and through the creation of motion graphics, video, and content.
To learn more about Artitudes Design, visit their website today. Checkout their portfolio to see their previous projects, and contact them today to find out how they can help you bring your business a cut above the rest.