Forge Your Own Way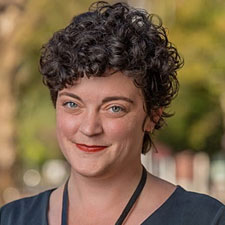 Shenandoah Davis is the Co-founder and CEO of Adventure Nannies, a nationwide domestic staffing agency that has been helping progressive families find nannies, private educators, and newborn care specialists since 2012. Shenandoah grew up attached to the piano. Being homeschooled, she would spend each day racing through her lessons so she could have time to practice for as long as possible. After graduating from the University of Northern Colorado with a degree in opera performance, she packed up and moved to Seattle to pursue the music and art scene.
Shenandoah has toured four continents as a singer, songwriter, and DIY musician performing in listening spaces and art galleries before taking a position at a large restaurant group in Seattle as a brand manager. She then joined Adventure Nannies as their COO in 2016. She serves on the board of several nonprofits and is committed to advancing the careers and dreams of women entrepreneurs through the realm of equitable domestic staffing in the US.
Here's a glimpse of what you'll learn:
How Shenandoah Davis transitioned from music to joining a domestic staffing agency
What led to Shenandoah and Adventure Nannies' success?
Why many women sacrifice for their businesses
What music means to Shenandoah and how she uses it to tap into emotions
Shenandoah explains how she benefited from being homeschooled
Shenandoah's thoughts on the recent changes at Adventure Nannies
How Shenandoah leads like a woman, the most impactful piece of advice she has ever received, and her advice to women getting started in business
Shenandoah's superpower and where to learn more about Adventure Nannies
In this episode…
Being a successful female leader does not mean that you have to lead like someone else — or like a man. You only need to forge your own way. Every woman is different, and there is value in redefining what it means to lead like a woman.
You don't have to stress yourself with a boss babe mentality, dress and act like a man, or have a big voice. However, by being authentic, you can be powerful and empower others as a leader. And if something doesn't work, learn from it and grow.
In this episode of the Lead Like A Woman Show, Andrea Heuston is joined by Shenandoah Davis, the Co-founder and CEO of Adventure Nannies, to talk about leading a business like a woman, experiencing success, and the power of music. They also talk about recent changes at Adventure Nannies and the value of being an authentic and empowered female leader. Stay tuned.
Resources Mentioned in this episode
Sponsor for this episode…
This episode is brought to you by Artitudes Design by Andrea Heuston. Artitudes Design is an award-winning creative agency that has been creating visual communication for Fortune 500 companies for over 25 years. They have worked with notable companies such as Microsoft, Starbucks, Expedia, and have also served startups and nonprofit organizations.
They specialize in connecting speakers with audiences by creating visual value with presentations and through the creation of motion graphics, video, and content.
To learn more about Artitudes Design, visit their website today. Checkout their portfolio to see their previous projects, and contact them today to find out how they can help you bring your business a cut above the rest.