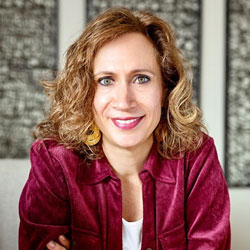 Mikelann Valterra is an author, keynote speaker, and money coach who helps women transform their relationship with money to create a life they love. For over 20 years, she has been a thought leader in the field of financial psychology. Her strong background in emotional intelligence paired with her practical money strategies enables her clients to consciously design their life while escaping financial stress and anxiety. When she's not working with clients, you can find Mikelann on the dance floor indulging in her love of Argentine Tango.
Here's a glimpse of what you'll learn:
How Mikelann Valterra became a money coach and started her business
What led to Mikelann's success in business?
Mikelann talks about co-founding a software company
The benefits of money coaching
Mikelann's tips for designing a life you love, having money conversations, and creating a personalized spending plan
The best piece of advice Mikelann has received from her mentors — and her advice to women on creating a happy place
Mikelann talks about her future plans and her superpower
In this episode…
How can you use your money to be happy and create the life you want?
You can do anything you put your mind to. Take it from Mikelann Valterra, who had the faith and courage to go after her dreams and start a business in a new niche. She believed that she could — and she did! Now, she helps other leaders manage their money and design the life of their dreams. Today, Mikelann is here to share her advice on money, spending, and finding joy in your life.
In this episode of the Lead Like a Woman Show, Andrea Heuston interviews Mikelann Valterra, a money coach, about the psychology of money. They also discuss the benefits of money coaching, tips for designing a life you love, and how to create a personalized spending plan.
Resources Mentioned in this episode
Sponsor for this episode…
This episode is brought to you by Artitudes Design by Andrea Heuston. Artitudes Design is an award-winning creative agency that has been creating visual communication for Fortune 500 companies for over 25 years. They have worked with notable companies such as Microsoft, Starbucks, Expedia, and have also served startups and nonprofit organizations.
They specialize in connecting speakers with audiences by creating visual value with presentations and through the creation of motion graphics, video, and content.
To learn more about Artitudes Design, visit their website today. Checkout their portfolio to see their previous projects, and contact them today to find out how they can help you bring your business a cut above the rest.