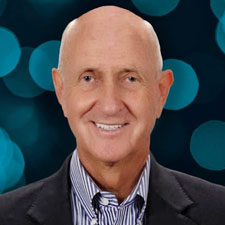 Warren Rustand is a husband, father, grandfather, entrepreneur, corporate leader, educator, speaker, and philanthropist. He received his undergraduate and graduate degrees from the University of Arizona where he was an Academic All-American basketball player.
In 1973, Warren was selected as a White House fellow through a nationally competitive process. He was appointed as a Special Assistant to the Secretary of Commerce, where he co-led the first-ever Executive Level Trade Mission to the Soviet Union. He then became Special Assistant to then-Vice President Gerald Ford. In 1974, when the vice president became president, he asked Warren to serve as his Appointments Secretary and Cabinet Secretary.
Following his time in public service, Warren entered the private sector again as an entrepreneur. He subsequently was CEO of 10 companies and chairman of many others. He has served on the board of directors of 50 for-profit and not-for-profit organizations. Warren was Global Chair of the World Presidents Organization and is the current Dean of Learning for the EO Global Leadership Academy, in addition to all Regional Leadership Academies.
Warren is a well-known speaker on topics of leadership, personal development, strategy, scaling businesses, entrepreneurship, and family. He is a tireless advocate for entrepreneurs and leaders, and he is a source of inspiration and support for female leaders worldwide.
Here's a glimpse of what you'll learn:
Warren Rustand speaks about the change he has seen in the elevation of female leaders in government and business
The historical and cultural barriers that women have had to overcome in leadership
What's important for the development of future women leaders?
How valuing, honoring, and respecting women as strong partners leads to greater success for everyone
Warren discusses his book The Leader Within Us and the three principles of "a life by design"
The mentors in Warren's life and the advice they gave him along the way
How aspiring leaders can overcome barriers and figure out where they're going
In this episode…
Women are capable of doing anything. They make meaningful contributions in all facets of life, and they often have the skill sets needed to succeed in a variety of roles. But social and historical barriers ingrained in our culture can make it difficult for women to rise into leadership roles. So, how can women overcome these barriers? And how can men honor and elevate the traits of female leaders?
There's a famous quote saying that a rising tide lifts all boats. However, Warren Rustand says that you can be the rising tide that lifts all boats. You just have to remind yourself that you're capable of being a great leader, can help carve a path for others to grow, and are good enough to do anything you put your mind to.
In this episode of the Lead Like a Woman Show, Andrea Heuston speaks with Warren Rustand, entrepreneur, author, and leader, about elevating women in the workplace. Together, they discuss the growth society has made in regards to women in leadership, how we can improve, and why women leaders are essential to the success of organizations. Warren also talks about the five principles of personal greatness and living with purpose. This episode is overflowing with advice for all aspiring leaders!
Resources Mentioned in this episode
Sponsor for this episode…
This episode is brought to you by Artitudes Design by Andrea Heuston. Artitudes Design is an award-winning creative agency that has been creating visual communication for Fortune 500 companies for over 25 years. They have worked with notable companies such as Microsoft, Starbucks, Expedia, and have also served startups and nonprofit organizations.
They specialize in connecting speakers with audiences by creating visual value with presentations and through the creation of motion graphics, video, and content.
To learn more about Artitudes Design, visit their website today. Checkout their portfolio to see their previous projects, and contact them today to find out how they can help you bring your business a cut above the rest.