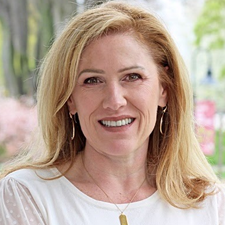 Tracy Deforge is the Founder and CEO of The Players' Impact, a venture platform for professional athletes. As an attorney by training, an entrepreneur in spirit, and an executive leader through experience, Tracy's career has focused in the sports industry on startup companies, technology offerings, and pioneering business initiatives.
Tracy has been starting, growing, and selling companies for over 20 years. After earning her J.D. at Seton Hall University, she worked for the National Hockey League and then Major League Baseball Advanced Media, and was a Partner in the first of its kind venture investment firm focused on companies that intersect sports, technology, and media entertainment. She has two children, is a six-time marathon finisher, a secondary black belt in Tae Kwon Do, and a 2018 Haymakers for Hope fighter.
Here's a glimpse of what you'll learn:
Tracy Deforge's reasons for founding The Players' Impact and what she loves about her work
What went right for Tracy when she started The Players' Impact?
How Tracy supports athletes through her program
Tracy's role as a board member of the USA Team Handball and how she empowers women as the Chair of the Board of Advisors for the National Women's Soccer League Players Association (NWSLPA)
How Tracy leads like a woman — and the most impactful piece of advice she has ever received
Tracy's advice for a woman looking to do something new in her life
Tracy talks about Women in Sports and Events (WISE), her superpower, and contact details
In this episode…
When women are empowered, happy, and rise to positions of power, families end up happier and companies become more successful. For Tracy Deforge, leading like a woman means leading in a way that lifts up others. You have to create your own path — think outside the box and don't look for a blueprint.
One of the best pieces of advice Tracy has received is to never let a bad minute mean a bad life. To live a good life, you have to define yourself and not base your journey on a blueprint or some bad moments. You have to get back up and make a decision to create a more meaningful and valuable life for yourself.
In this episode of the Lead Like A Woman Show, Andrea Heuston interviews Tracy Deforge, the Founder and CEO of The Players' Impact, about her work in supporting athletes through her organization. Tracy explains why she founded The Players' Impact and talks about how she empowers others as a board member of the USA Team Handball and the National Women's Soccer League Players Association. Plus, Tracy shares how we can all take action to spark change. Stay tuned.
Resources Mentioned in this episode
Sponsor for this episode…
This episode is brought to you by Artitudes Design by Andrea Heuston. Artitudes Design is an award-winning creative agency that has been creating visual communication for Fortune 500 companies for over 25 years. They have worked with notable companies such as Microsoft, Starbucks, Expedia, and have also served startups and nonprofit organizations.
They specialize in connecting speakers with audiences by creating visual value with presentations and through the creation of motion graphics, video, and content.
To learn more about Artitudes Design, visit their website today. Checkout their portfolio to see their previous projects, and contact them today to find out how they can help you bring your business a cut above the rest.