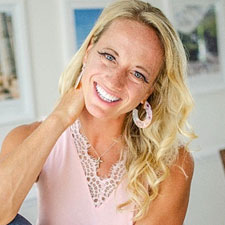 Trish Blackwell is a confidence coach and the Founder of The College of Confidence. She is an expert at empowering people to get past self-doubt, overcome self-limiting beliefs, and perform at their highest levels. She is a confidence coach to Olympic athletes, Ironman champions, CEOs, high-achieving entrepreneurs, and cultural influencers.
Trish is an author, wife, mom, surfer, snowboarder, runner, and Ironman triathlete. She is also the host of The Confidence Podcast, a top-rated podcast for self-improvement. She has been featured by TLC, Entrepreneur, and Elite Daily as one of the top confidence coaches in the world. She specializes in helping high achievers think with more power, clarity, and belief.
Here's a glimpse of what you'll learn:
Trish Blackwell talks about her struggles with perfectionism and what inspired her to start podcasting and coaching
What went right for Trish when she started podcasting and developing apps?
The importance of embracing failure
How Trish deals with imposter syndrome and coaches her clients out of it
Why you should stop caring what others think about you
The most challenging part of Trish's work as a confidence coach
Trish talks about The Confidence Podcast, The College of Confidence, and the most impactful piece of advice she has received from a mentor
What Trish is currently curious about and her advice to women on being brave
Trish's superpower and where to learn more about her
In this episode…
Having self-doubt is part of being human, and failing to embrace this is the reason why many people suffer from imposter syndrome. Overthinking causes these feelings which, in the long term, drive people to perfectionism — and this can take a toll on their happiness. Overthinking amplifies your self-doubt and makes it louder than your beliefs, and you end up sidelining yourself and losing your self-confidence.
As a confidence coach, Trish Blackwell gets to work with many women who struggle with their confidence. She helps them see that their value lies in who they are and not what they do. She advises them to be brave and avoid trying to be perfect. Trish also believes in the power of embracing failure, disappointments, and being vulnerable. No one knows everything, and life is about learning from your mistakes and showing up.
In this episode of the Lead Like A Woman Show, Andrea Heuston interviews Trish Blackwell, a Confidence Coach and the Founder of The College of Confidence, about how she helps women build confidence, achieve their life's purpose, and live boldly. Trish also talks about The College of Confidence, the importance of failure and not caring what others think, and how she deals with imposter syndrome. Stay tuned.
Resources Mentioned in this episode
Sponsor for this episode…
This episode is brought to you by Artitudes Design by Andrea Heuston. Artitudes Design is an award-winning creative agency that has been creating visual communication for Fortune 500 companies for over 25 years. They have worked with notable companies such as Microsoft, Starbucks, Expedia, and have also served startups and nonprofit organizations.
They specialize in connecting speakers with audiences by creating visual value with presentations and through the creation of motion graphics, video, and content.
To learn more about Artitudes Design, visit their website today. Checkout their portfolio to see their previous projects, and contact them today to find out how they can help you bring your business a cut above the rest.