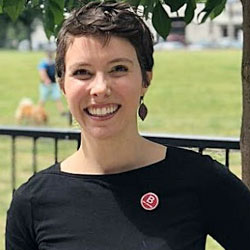 Quinn Rose is the Founder of Story Based Brands, a video production company based in Portland, Oregon, that helps businesses and organizations make a bigger impact through video. Native to Portland, Quinn moved to New York City to pursue her childhood dream of being an investigative reporter. There she co-produced a documentary on the NYPD Stop and Frisk policy, which now has over eight million views and is mentioned in a federal ruling. She also reported courtside at the 2016 Summer Olympics. Her stories and interviews aired in 256 countries, reaching a TV audience of over one billion, and her team's corporate videos continue to break records worldwide.
From there, Quinn continued working in international events and writing, producing, and directing videos and teaching workshops to students and adults. Her focus is on one goal: to use her journalistic lens and passion for stories to support mission-driven companies.
Here's a glimpse of what you'll learn:
Quinn Rose's experience being a reporter and why she decided to start her own business
What went right for Quinn when she started her business?
Quinn talks about working on a documentary about NYPD's Stop and Frisk policy
What drives Quinn's passion for her work?
The value of identifying your passion and following your own path
Quinn and Andrea Heuston talk about their superpowers
In this episode…
The future is always uncertain. No one can predict the future or know for sure what it holds. Should that stop you from pursuing your passion?
To successfully navigate the uncertainty of the future, Quinn Rose chose to trust herself. She believes in following your unique path and pushing yourself out of your comfort zone. Your life can take a different direction than other people's. Quinn's advice is to spend quality time alone, learn more about yourself, and live on your own terms. You should trust the process and reach for what makes you happy.
In this episode of the Lead Like a Woman Show, Andrea Heuston interviews Quinn Rose, the Founder of Story Based Brands, about the value of following your own path. Quinn shares her experience as a reporter, working on a documentary about NYPD's Stop and Frisk policy, starting a video production company, and her advice for identifying your passion.
Resources Mentioned in this episode
Sponsor for this episode…
This episode is brought to you by Artitudes Design by Andrea Heuston. Artitudes Design is an award-winning creative agency that has been creating visual communication for Fortune 500 companies for over 25 years. They have worked with notable companies such as Microsoft, Starbucks, Expedia, and have also served startups and nonprofit organizations.
They specialize in connecting speakers with audiences by creating visual value with presentations and through the creation of motion graphics, video, and content.
To learn more about Artitudes Design, visit their website today. Checkout their portfolio to see their previous projects, and contact them today to find out how they can help you bring your business a cut above the rest.