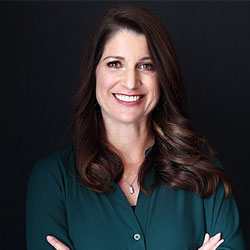 Lisa Riggs, known as the Sock Queen, is the Founder of Spirit Sox USA, a company focused on making a difference in the world with each pair of customized socks. By collaborating with their customers to design unique socks and incorporating their branding, Lisa has found a niche that allows her to use her background in fundraising, HR, and management. As a mom of two children, she has been involved in fundraisers for a variety of activities and sports. After creating a sock fundraiser for her daughter's school, she realized this success could be replicated in other businesses, and Spirit Sox USA was born.
Today, Lisa has helped thousands of businesses with branded socks that can be sold, provided as a corporate gift, or offered as a customer giveaway. While Spirit Sox USA customizes socks, they never lose sight of their mission — to make the world a better place. One way they do this is by donating 5% of all profits towards providing socks for the homeless in America. To date, they've donated thousands of socks to the homeless across the country. Lisa, a lifelong resident of California, has been married for 25 years and has two college-aged children, two dogs, a 30-year-old box turtle, and an active lifestyle. She and her family enjoy spending time at the beach, going hiking, and playing sports.
Here's a glimpse of what you'll learn:
What drove Lisa Riggs to start her own company?
How Lisa uses socks to fundraise and give back to the community
How Lisa leads like a woman — and her advice to a woman looking to start a business
What has led to the success of Spirit Sox USA?
What Lisa loves about her work — and what she is currently curious about
Lisa talks about the most impactful piece of advice she has received, her superpower, and contact details
In this episode…
Many women working in the corporate world often face challenges that limit their success. To overcome this, some choose to go into business. However, acquiring customers, dealing with competitors, and finding the best strategies to grow a business in the early days can also prove difficult. So what can business owners do to solve these challenges?
While starting her own company, Lisa Riggs learned the value of perseverance. She sought advice from other leaders and now advises fellow women not to be afraid of leading like a woman. You have to lead with integrity and authenticity. You also have to set realistic expectations and be ready to embrace rejections.
In this episode of the Lead Like A Woman Show, Andrea Heuston hosts Lisa Riggs, the Founder of Spirit Sox USA, to talk about creating value through socks. They also talk about using socks to fundraise and give back to the community, the challenges women working in the corporate world face, and the strategies Lisa used to grow her business.
Resources Mentioned in this episode
Sponsor for this episode…
This episode is brought to you by Artitudes Design by Andrea Heuston. Artitudes Design is an award-winning creative agency that has been creating visual communication for Fortune 500 companies for over 25 years. They have worked with notable companies such as Microsoft, Starbucks, Expedia, and have also served startups and nonprofit organizations.
They specialize in connecting speakers with audiences by creating visual value with presentations and through the creation of motion graphics, video, and content.
To learn more about Artitudes Design, visit their website today. Checkout their portfolio to see their previous projects, and contact them today to find out how they can help you bring your business a cut above the rest.