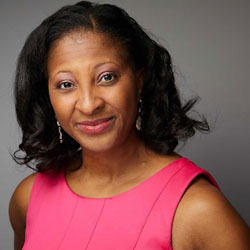 Simone Morris is the CEO of Simone Morris Enterprises, LLC, a certified minority and women-owned business providing leadership solutions. She is also an inclusive leadership expert, executive career coach, author, and professional speaker. Simone consults with organizations on addressing cultural concerns, coaches leaders on managing diverse perspectives, and helps women regain their confidence to advance their careers.
As an interactive keynote speaker, Simone leads discussions to support diversity and inclusion agendas and talent management strategies. She has received numerous awards and recognition for her work, including "Female Solo Entrepreneur of the Year" in 2020 and the "Women Business Enterprises Who Rock" award in 2019.
Here's a glimpse of what you'll learn:
Simone Morris' transition from corporate America to launching a consultancy
How Simone persevered to achieve entrepreneurial success — and her joyous moments
Who are Simone's ideal clients?
The Great Resignation, the talent war, and other social justice trends
Simone shares the purpose of her book and podcast The Power of Owning Your Career
Why inclusion in schools is critical
Advice for owning and amplifying your voice
In this episode…
Women are often relegated to secondary roles and made to follow directions instead of providing them. But as the business world becomes increasingly sophisticated, women leaders and entrepreneurs are rising up and carving a position for themselves. How can you own and amplify your voice to facilitate widespread, systemic change?
Leadership expert and inclusion advocate Simone Morris declares that your career is your responsibility. Instead of allowing others to govern your journey, you must disrupt traditional gender roles to live your purpose and make an impact. Yet making a bold assertion can be intimidating, so Simone says to give yourself grace and compassion while taking small steps to build authority by writing articles and appearing on podcasts.
Listen to this episode of the Lead Like a Woman Show as Andrea Heuston chats with Simone Morris, CEO of Simone Morris Enterprises, LLC, about uplifting yourself and your career. Simone also mentions the importance of inclusion in schools, the Great Resignation and other prominent social justice trends, and her book's message.
Resources Mentioned in this episode
Sponsor for this episode…
This episode is brought to you by Artitudes Design by Andrea Heuston. Artitudes Design is an award-winning creative agency that has been creating visual communication for Fortune 500 companies for over 25 years. They have worked with notable companies such as Microsoft, Starbucks, Expedia, and have also served startups and nonprofit organizations.
They specialize in connecting speakers with audiences by creating visual value with presentations and through the creation of motion graphics, video, and content.
To learn more about Artitudes Design, visit their website today. Checkout their portfolio to see their previous projects, and contact them today to find out how they can help you bring your business a cut above the rest.