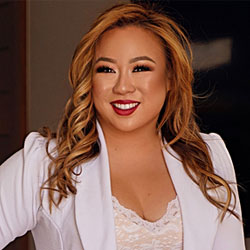 Cathey Kuo is a real estate broker, investor, and entrepreneur with over 10 years of experience in commercial real estate leasing and sales, real estate investing, asset management, and 1031 exchanges. As a business owner and investor, she has an innate grasp of the real estate market and entrepreneurship which allows her to be solution-oriented and empathize with all parties in a deal to structure a win-win resolution. Her immense desire to help others fulfill their entrepreneurial dreams and grow their investment portfolios stems from her own family's humble beginnings.
As the child of first-generation immigrants, Cathey experienced firsthand the countless goals and opportunities that could be achieved through grit and hard work and strives to empower others to fulfill their dreams. She began her career in real estate working alongside her mother, who has her own successful 30-year track record in the industry as an agent and investor. After high school, Cathey went on to gain her BBA in real estate from Baruch College – Zicklin School of Business in New York City. She began her professional life in New York but moved to Las Vegas in 2014 to expand her career.
Here's a glimpse of what you'll learn:
Cathey Kuo's experience working at a large commercial real estate firm and why she started her own company
How Cathey uses her skills to give back to the community
What is a 1031 exchange?
What Cathey learned from her immigrant parents — and how she started an Instagram account to support local restaurants
Cathey explains how she leads like a woman and talks about the limiting beliefs she had to overcome
The best piece of advice Cathey has received from a mentor and her advice to women struggling in leadership
Cathey's superpower and contact details
In this episode…
How can you lead with kindness? Is empathy important? What leadership traits do you embody?
For Cathey Kuo, leading like a woman means leading with empathy, kindness, and integrity. When you don't know something, admit it — but don't let anyone make you feel inferior. It is also important to be authentic, know who you serve, and provide value to make people's lives better.
Cathey Kuo, a real estate broker, investor, and entrepreneur, joins Andrea Heuston in this episode of the Lead Like A Woman Show to talk about building a business through grit and determination. Cathey shares her experience in the real estate industry, the limiting beliefs she had to overcome, and how she uses her skills to give back to the community.
Resources Mentioned in this episode
Sponsor for this episode…
This episode is brought to you by Artitudes Design by Andrea Heuston. Artitudes Design is an award-winning creative agency that has been creating visual communication for Fortune 500 companies for over 25 years. They have worked with notable companies such as Microsoft, Starbucks, Expedia, and have also served startups and nonprofit organizations.
They specialize in connecting speakers with audiences by creating visual value with presentations and through the creation of motion graphics, video, and content.
To learn more about Artitudes Design, visit their website today. Checkout their portfolio to see their previous projects, and contact them today to find out how they can help you bring your business a cut above the rest.