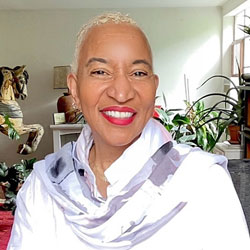 Rosalyn Taylor O'Neale was named one of the Top 100 Most Influential Blacks in Corporate America, Top Executives in Diversity, 100 Top Executives in America, and 100 Most Influential LGBT People of the Year. From the segregated South across five continents, this African-American woman has filled her life with interesting people and complex subjects. The former chief diversity officer, executive VP of diversity initiatives, and principal consultant specializes in facilitating courageous conversations about race, culture, sexual orientation, and gender identity.
Rosalyn is the Author of four books including 7 Keys 2 Success: Unlocking the Passion for Diversity and The Power of Passion, Courage, and Faith. She has been quoted in Black Enterprise Magazine, Cable World Magazine, and Harvard Business Review. Rosalyn received a master's of social work from the University of Louisville and has three dogs and three cats.
Here's a glimpse of what you'll learn:
What inspired Rosalyn Taylor O'Neale to start a consulting practice?
Rosalyn talks about her work around diversity, equity, and inclusion
How diversity has evolved over the years
How Rosalyn promotes courageous conversations about unconscious bias
Rosalyn explains how she creates diversity and inclusion programs for different countries — and why she wrote her latest book
The most popular piece of advice Rosalyn has received from her mentors
Rosalyn's superpower and contact details
In this episode…
What does it take to manage a diverse workforce? What can you do to promote diversity, equity, and inclusion in your organization?
According to Rosalyn Taylor O'Neale, a courageous leader is bold enough to talk about topics that may make others feel uncomfortable. They do not let fear stop them and are passionate about what they stand for. A courageous leader learns how to manage a diverse workforce, creates a safe place for their team, and recognizes their biased thoughts.
In this episode of the Lead Like A Woman Show, Andrea Heuston is joined by Rosalyn Taylor O'Neale, a speaker and author, to talk about having courageous conversations. They discuss how diversity has evolved over the years, how Rosalyn creates diversity and inclusion programs, and how she promotes courageous conversations about unconscious bias.
Resources Mentioned in this episode
Sponsor for this episode…
This episode is brought to you by Artitudes Design by Andrea Heuston. Artitudes Design is an award-winning creative agency that has been creating visual communication for Fortune 500 companies for over 25 years. They have worked with notable companies such as Microsoft, Starbucks, Expedia, and have also served startups and nonprofit organizations.
They specialize in connecting speakers with audiences by creating visual value with presentations and through the creation of motion graphics, video, and content.
To learn more about Artitudes Design, visit their website today. Checkout their portfolio to see their previous projects, and contact them today to find out how they can help you bring your business a cut above the rest.