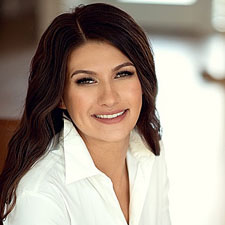 Olga Sagan is the Owner of the nationally renowned bakery, Piroshky Piroshky. Founded in Seattle's historic Pike Place Market, Piroshky Piroshky has offered handcrafted pies to loyal fans since 1992. An immigrant from Russia when she was 16, Olga arrived in America and faced many challenges overcoming language barriers and learning to navigate what it means to be a woman in a leadership role — something that was not encouraged in her home country.
In 2006, Olga became part owner of Piroshky Piroshky and took complete ownership in 2017. Under her leadership, the bakery has grown to four locations and a food truck, teamed up with iconic Northwest businesses such as Field Roast, Uli's Famous Sausage, Tillamook, and Double R Ranch, and introduced a vegan line. Passionate about leadership, she got her SHRM Certification in 2018 and was picked by Puget Sound Business Journal as a "small business hero" in 2019. She was also chosen by the SBA as the 2020 "Washington Small Business Owner of the Year." In 2020, she started Catch22Market, a free website aggregator that helps small businesses take their customers back.
Here's a glimpse of what you'll learn:
How Olga Sagan started working at Piroshky Piroshky and how she took ownership of the bakery chain
What Olga has learned about herself as a business owner
Piroshky Piroshky's history, its locations, and how Olga immigrated to the US
How the COVID-19 pandemic led to the creation of Catch22Market — and how the app has grown
What went right for Olga when building her businesses?
Olga talks about some of her mentors and the best piece of advice she has received from them
What Olga is currently focused on and her advice to women struggling in business
Olga talks about her favorite food joints in Pike Place Market and explains the difference between piroshki and pierogi
Olga's superpower and how to get in touch with her
In this episode…
Two of the most important character traits needed to build a thriving business are trust and transparency. Entrepreneurs need to be transparent about their products, businesses, and how they relate to other players in their industry. They also have to build trust with their customers and industry partners.
Olga Sagan's desire for transparency led to the creation of Catch22Market, a website aggregator which helps put power back into small businesses. During the COVID-19 pandemic, she realized that many players in the food industry were losing a lot of business due to the shutdowns and were spending a lot of money working with third-party delivery apps to serve their customers. She, therefore, came up with the brilliant idea for Catch22Market that not only provides transparency but also helps build trust between businesses and their customers.
Olga Sagan, the Owner of Piroshky Piroshky, is Andrea Heuston's guest in this episode of the Lead Like A Woman Show where she gets interviewed about her entrepreneurial journey and her desire to give power back to small business owners. Olga explains how she immigrated to the US, how she came to be the sole owner of Piroshky Piroshky, and how her website aggregator tool is helping businesses in the food industry thrive. Stay tuned.
Resources Mentioned in this episode
Sponsor for this episode…
This episode is brought to you by Artitudes Design by Andrea Heuston. Artitudes Design is an award-winning creative agency that has been creating visual communication for Fortune 500 companies for over 25 years. They have worked with notable companies such as Microsoft, Starbucks, Expedia, and have also served startups and nonprofit organizations.
They specialize in connecting speakers with audiences by creating visual value with presentations and through the creation of motion graphics, video, and content.
To learn more about Artitudes Design, visit their website today. Checkout their portfolio to see their previous projects, and contact them today to find out how they can help you bring your business a cut above the rest.