Keith Roberts is an entrepreneur, author, keynote speaker, and the Founder of OAKJournal, which provides curated tools to set and achieve goals. With more than 20 years of experience as an inspiring leader, he delivers powerful stories and practical strategies to help people overcome obstacles and reach their dreams. Keith is the former Founder and Creative Director of Zenman, a web development agency taking a Buddhist approach to client relationships.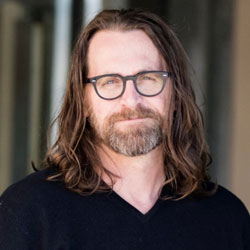 Here's a glimpse of what you'll learn:
Keith Roberts talks about Zenman's origin and his entrepreneurial history
Keith explains Zenman's Buddhist culture and business model
What is "who luck"?
How Keith uplifts women in their roles
Creating leadership opportunities for women in EO (Entrepreneurs' Organization)
The impetus for OAKJournal and how it encourages entrepreneurs to regain control of their lives
Keith shares his "why"
Women bring unique perspectives to any endeavor, making them exceptional leaders. Yet leadership groups like Entrepreneurs' Organization lack women executives. How can you support women in their roles and embrace their opinions to fuel your company?
Rather than intentionally acquiring women to fill executive positions, entrepreneur Keith Roberts hires the most qualified talent for specific roles. When hiring for senior management, Keith identified and nurtured a female employee's strengths and promoted her within the organization. As a result, this woman supported Keith by helping him prioritize and delegate his time.
Entrepreneur, keynote speaker, and Founder of OAKJournal, Keith Roberts, joins Andrea Heuston in this episode of the Lead Like a Woman Show to discuss fostering female leaders. Keith explains how he empowers women in their roles, his "why," and the definition of "who luck."
Resources Mentioned in this episode
Sponsor for this episode…
This episode is brought to you by Artitudes Design by Andrea Heuston. Artitudes Design is an award-winning creative agency that has been creating visual communication for Fortune 500 companies for over 25 years. They have worked with notable companies such as Microsoft, Starbucks, Expedia, and have also served startups and nonprofit organizations.
They specialize in connecting speakers with audiences by creating visual value with presentations and through the creation of motion graphics, video, and content.
To learn more about Artitudes Design, visit their website today. Checkout their portfolio to see their previous projects, and contact them today to find out how they can help you bring your business a cut above the rest.