Monica Yates is the CEO of Monica Yates Health, where she helps women tap into their core feminine desires and live their dream lives. As a trauma healer and feminine-masculine embodiment coach, she utilizes embodiment, subconscious reprogramming, somatic work, and other modalities to help women break their trauma cycles. Monica is also the host of the Feminine As F*ck Podcast and has been featured in Vogue, Glamour, and other fashion magazines.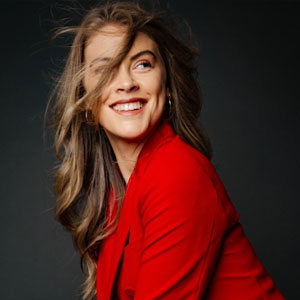 Here's a glimpse of what you'll learn:
What led Monica Yates to become a trauma and embodiment coach?
Monica's successes in founding Monica Yates Health
How to integrate masculine and feminine energy to manage a business
Advice for assessing your needs as a woman
Finding fulfillment in your job and allocating your energy
Monica talks about her upcoming book
Through long-standing beliefs and embedded traumas, women are programmed to either fear masculinity or reject femininity in favor of it. In a business environment, this manifests as a lack of structure, leading to burnout. How can you reconcile these identities to tap into your full potential?
After battling health issues and negative experiences with men, Monica Yates began subconsciously behaving like a man to thrive in the corporate world. Yet people need feminine energy to experience happiness, love, and pleasure and masculine energy to feel safe and strong. So Monica discovered that by integrating both masculine and feminine identities, you can cultivate harmony in your work. Monica also advises evaluating your needs and listening to your body.
In this episode of the Lead Like a Woman Show, Andrea Heuston sits down with Monica Yates, the CEO of Monica Yates Health, to delve into the connection between masculinity and femininity. Monica also discusses the importance of finding fulfillment in your job and allocating your energy, her upcoming book on the feminist movement, and how women can assess their needs.
Resources Mentioned in this episode
Sponsor for this episode…
This episode is brought to you by Lead Like a Woman SpeakHer.
Lead Like a Woman SpeakHer is an online speakers resource dedicated to empowering women in leadership.
This subscription platform is designed to empower and equip women with the tools and resources they need to excel as speakers and influential leaders.
Its mission is to support women in harnessing their strengths, amplifying their voices, and making a lasting impact on their industries and communities.
To enroll in Lead Like a Woman SpeakHer, mention this episode by name and sign up on leadlikeawoman.biz/speakher