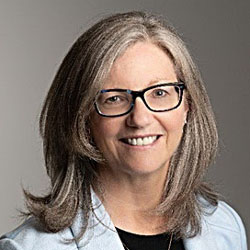 Mary Jane Pioli is the President of MJ Pioli and Company, a firm that provides executive coaching, business strategy, peer advisory, and facilitation services. As an executive coach, peer group advisory leader, and business development strategist, Mary Jane is passionate about developing conscious leaders who are happier and more effective in their organizational roles and in their lives. She collaborates with leaders to help them become more intentional about their goals and strategies and find the best ways to inspire others and implement programs, products, and services for success.
Mary Jane is currently the Co-leader of the Seattle and Bellevue Chapters of the Women Presidents' Organization (WPO), a Group Leader for the peer advisory group CEO Connect, and an executive coach to managers, directors, C-suite executives, teams, and professional service firm partners. She has enjoyed running her business for the past several years after earning a coaching certification degree and spending the first 15 plus years of her career in the corporate environment. She left the country and traveled for a year through Southeast Asia, Australia, and New Zealand, harnessing her type A personality, which allowed her a successful re-entry into the world of business and motherhood.
Here's a glimpse of what you'll learn:
How Mary Jane Pioli started her own coaching business and what led to her success
Mary Jane's work to create happier and more effective leaders
The value of focusing on the positive versus the negative during coaching
How Mary Jane empowers leaders to improve through peer advisory groups
How Mary Jane leads like a woman and how the leadership lessons she has learned have impacted her parenting
The most challenging part of Mary Jane's work — and her experience taking classes in basic keelboat sailing and coastal cruising
The most impactful piece of advice Mary Jane has received from a mentor
Mary Jane talks about her superpower and shares her contact details
In this episode…
To become a better leader, it is important that you learn how to listen, be present, and speak up. This is what Mary Jane Pioli learned from one of her mentors while working in the corporate world.
You don't always have to solve every problem on your own, and it is important that you learn how to take a break and relax. Creating a space between allows you to stop worrying and know that the most important thing is taking the first step when you don't know what the future holds. It helps you work on yourself, avoid burnout, live a happier life, and become a better leader. It helps you learn how to be!
In this episode of the Lead Like A Woman Show, Andrea Heuston interviews Mary Jane Pioli, the President of MJ Pioli and Company, about executive coaching and helping leaders become happier and more efficient. They also talk about toxic positivity, empowering and serving other leaders, and how Mary Jane leads like a woman. Stay tuned.
Resources Mentioned in this episode
Sponsor for this episode…
This episode is brought to you by Artitudes Design by Andrea Heuston. Artitudes Design is an award-winning creative agency that has been creating visual communication for Fortune 500 companies for over 25 years. They have worked with notable companies such as Microsoft, Starbucks, Expedia, and have also served startups and nonprofit organizations.
They specialize in connecting speakers with audiences by creating visual value with presentations and through the creation of motion graphics, video, and content.
To learn more about Artitudes Design, visit their website today. Checkout their portfolio to see their previous projects, and contact them today to find out how they can help you bring your business a cut above the rest.