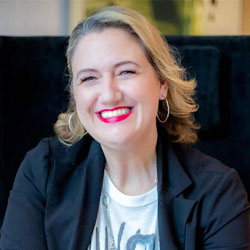 Riah Gonzalez is an accidental entrepreneur, a taco enthusiast, and a lover of 90s pop. As a young mom with minimal support, Riah quickly learned that her success would be different from that of her peers. The life lessons she learned through trial and error led her to encourage others through her debut book, Successful as F*ck: A No BS Tale of Screwing Up and Succeeding Anyway. When she's not writing, Riah empowers female entrepreneurs with her virtual assistant matchmaking company Linq Consulting Solutions. She lives happily in the Pacific Northwest with her husband and three daughters.
Here's a glimpse of what you'll learn:
What inspired Riah Gonzalez to share her story?
Riah's background and the process of writing her book
How Riah started Linq Consulting Solutions and what led to her success
Riah talks about her community and explains why she used the title Successful as F*ck
How to be authentic to make a positive impression
The best piece of advice Riah has ever received
Riah's superpower
In this episode…
What does success look like for you? Do you find it difficult to express your true self or emotions when it comes to business?
The fear of being ridiculed, judged, or seen as a failure prevents many women from expressing their emotions. However, according to Riah Gonzalez, screwing up does not mean you are unsuccessful. Instead, embrace your failures and learn from your mistakes. Be authentic, express your emotions and true self, and recognize that you are enough.
In this episode of the Lead Like a Woman Show, Andrea Heuston interviews Riah Gonzalez, an author and entrepreneur, about defining success on your own terms. Riah discusses the value of expressing your emotions, being authentic, and her experience building a virtual assistant matchmaking company.
Resources Mentioned in this episode
Sponsor for this episode…
This episode is brought to you by Artitudes Design by Andrea Heuston. Artitudes Design is an award-winning creative agency that has been creating visual communication for Fortune 500 companies for over 25 years. They have worked with notable companies such as Microsoft, Starbucks, Expedia, and have also served startups and nonprofit organizations.
They specialize in connecting speakers with audiences by creating visual value with presentations and through the creation of motion graphics, video, and content.
To learn more about Artitudes Design, visit their website today. Checkout their portfolio to see their previous projects, and contact them today to find out how they can help you bring your business a cut above the rest.