Keri Murphy is the Founder and CEO of Inspired Living, a company that helps entrepreneurs build an influential brand through video messaging. The company's proprietary "IT Factor" program is the most sought-after on-camera training in the US and has been featured in news segments like CNN and ABC.
As an international speaker, media and branding expert, and business growth mentor, Keri has over 20 years of experience and has been on camera for over three decades. She hosts the Inspired Living TV web series, where she inspires and educates entrepreneurs on building a seven-figure brand.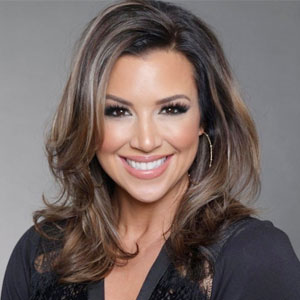 Here's a glimpse of what you'll learn:
Keri Murphy's catalyst for founding Inspired Living
How developing a niche benefited Inspired Living
Fundamental lessons about on-camera branding
What is the Brilliant event, and how can women entrepreneurs join?
Tips for leveraging video to build a brand and grow your business
Keri imparts advice to her younger self
When delivering speeches on camera, women entrepreneurs often put themselves under pressure to be perfect, causing them to feel insecure about their image. How can you overcome your doubts to amplify your voice and impact?
After decades of on-camera appearances, video marketing and branding expert Keri Murphy discovered video messaging isn't a personal endeavor. Instead, these speaking engagements should inspire, empower, and educate others to take action. When speaking on camera, Keri advises separating yourself from the campaign to identify your ideal audience and create, market, and monetize a message.
Join Andrea Heuston in today's episode of the Lead Like a Woman Show as she invites Keri Murphy, the Founder and CEO of Inspired Living, to speak about creating and growing a brand through video. Keri talks about the Brilliant event and how women can join, why she developed a niche for her business, and the importance of investing in yourself.
Sponsor for this episode…
This episode is brought to you by Lead Like a Woman SpeakHer. 
Lead Like a Woman SpeakHer is an online speakers resource dedicated to empowering women in leadership. 
This subscription platform is designed to empower and equip women with the tools and resources they need to excel as speakers and influential leaders.
Its mission is to support women in harnessing their strengths, amplifying their voices, and making a lasting impact on their industries and communities. 
To enroll in Lead Like a Woman SpeakHer, mention this episode by name and sign up on leadlikeawoman.biz/speakher
This episode is also brought to you by Artitudes Design by Andrea Heuston. Artitudes Design is an award-winning creative agency that has been creating visual communication for Fortune 500 companies for over 25 years. They have worked with notable companies such as Microsoft, Starbucks, Expedia, and have also served startups and nonprofit organizations.
They specialize in connecting speakers with audiences by creating visual value with presentations and through the creation of motion graphics, video, and content.
To learn more about Artitudes Design, visit their website today. Checkout their portfolio to see their previous projects, and contact them today to find out how they can help you bring your business a cut above the rest.