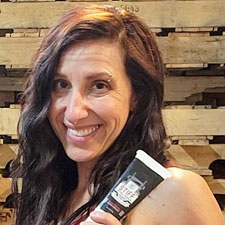 From yoga instructor to trucking fitness authority, for 20 years, Hope Zvara has helped change thousands of lives using her easy, step-by-step lifestyle strategies and solutions. As the CEO of Mother Trucker Yoga, Hope's mission is to help one million drivers change lanes in their health and fitness by 2031. While everyone else is focused on exercise, Hope shows drivers how to add more movement into their day in small, bite-sized pieces. Picked up by Love's Travel Stops & Country Stores nationwide during a global pandemic, she created Stiff Mother Trucker Pain Relief Cream to help drivers reduce pain fast. She believes that it's the small, simple changes that lead to big results. Catch Hope on Season nine of the PBS show Start Up where she shares her story, programs, and unique approach to movement and driver lifestyle so that you can feel good again.
Here's a glimpse of what you'll learn:
How Hope Zvara started doing yoga and why she decided to focus on long haul truck drivers
What went right for Hope when she started Mother Trucker Yoga?
Hope explains what Mother Trucker Yoga does
How the idea for Stiff Mother Trucker Pain Relief Cream came about
Why Hope has been creating new products and expanding her business
Hope's new app — and her thoughts on the value of delayed gratification
Hope talks about her new book, Trucking Yoga: Simple Fitness for the Long Haul
The most impactful piece of advice Hope has ever received
Hope talks about her superpower and shares her contact details
In this episode…
Although every woman is gifted, talented, and has what it takes to do great things and create a lot of value, we are often faced with imposter syndrome. We don't believe in ourselves as much as we should, and this affects our lives and the decisions we make.
From her many years of experience running a yoga business and creating different programs, Hope Zvara had to deal with imposter syndrome — which eventually stifled business growth. She, however, decided to be brave and made a decision to change. She wanted to be big and be seen so that she could help more people rise and improve their lives.
In this episode of the Lead Like A Woman Show, Andrea Heuston is joined by Hope Zvara, the CEO of Mother Trucker Yoga, to talk about creating value in a niche market. Hope also talks about the lessons she learned over the years running a yoga business, her new app and book, and the art of delayed gratification. Stay tuned.
Resources Mentioned in this episode
Sponsor for this episode…
This episode is brought to you by Artitudes Design by Andrea Heuston. Artitudes Design is an award-winning creative agency that has been creating visual communication for Fortune 500 companies for over 25 years. They have worked with notable companies such as Microsoft, Starbucks, Expedia, and have also served startups and nonprofit organizations.
They specialize in connecting speakers with audiences by creating visual value with presentations and through the creation of motion graphics, video, and content.
To learn more about Artitudes Design, visit their website today. Checkout their portfolio to see their previous projects, and contact them today to find out how they can help you bring your business a cut above the rest.