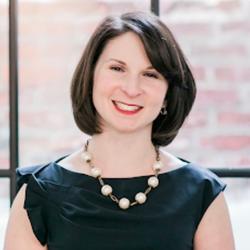 Shanna A. Hocking is a leadership consultant, philanthropic advisor, and keynote speaker with 20 years of experience raising hundreds of millions of dollars and leading large teams at organizations such as the Wharton School of Business, Children's Hospital of Philadelphia, the University of Alabama, and Duke University. She is the Principal of Hocking Leadership, an organizational leadership, fundraising, and philanthropic advisory firm. Shanna's clients include universities, national nonprofit organizations, global businesses, and family foundations. Her articles have been published in Harvard Business Review, Fast Company, Huffington Post, Motherly, and Forbes. Her expertise has been featured in Entrepreneur, Chicago Tribune, Today.com, Insider, The Muse, American Express Business Insights, and Thrive Global, among others. Shanna is also the author of One Bold Move a Day.
Here's a glimpse of what you'll learn:
Why Shanna A. Hocking started a consulting business
Shanna talks about her book and the four mindsets for making bold moves
How to live the "and mindset" and find happiness through the "progress mindset"
What is a bold move?
The steps Shanna is taking to make bold moves
Why workplace culture is about connections — not presence
The benefits of having an "Atta Girl" folder
The most impactful piece of advice Shanna has received from her mentors
Shanna's superpower and contact details
In this episode…
Do you find it difficult to celebrate your wins and accomplishments? How can you ensure that you learn and grow throughout your career?
Leadership consultant Shanna A. Hocking's advice is to take small, bold, actionable steps every day. Being a great leader doesn't happen overnight, but you have to make a conscious choice to move forward. It is therefore essential to be grateful, empower others to achieve success, and find joy in the challenges. Make an intentional choice to celebrate the small wins every day.
In this episode of the Lead Like a Woman Show, Andrea Heuston is joined by Shanna A. Hocking, the Principal of Hocking Leadership, to talk about making bold career moves. Shanna discusses the benefits of celebrating your accomplishments, the four mindsets for making bold moves, and why workplace culture is about connections — not presence.
Resources Mentioned in this episode
Sponsor for this episode…
This episode is brought to you by Artitudes Design by Andrea Heuston. Artitudes Design is an award-winning creative agency that has been creating visual communication for Fortune 500 companies for over 25 years. They have worked with notable companies such as Microsoft, Starbucks, Expedia, and have also served startups and nonprofit organizations.
They specialize in connecting speakers with audiences by creating visual value with presentations and through the creation of motion graphics, video, and content.
To learn more about Artitudes Design, visit their website today. Checkout their portfolio to see their previous projects, and contact them today to find out how they can help you bring your business a cut above the rest.