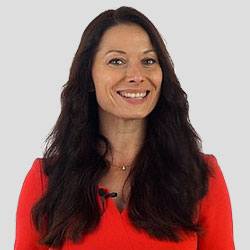 Natalya Berdikyan is the Founder and Chief Energy Officer of Life By Design, where she combines her coaching, yoga, and breath work certifications with her corporate and entrepreneurial experience to help individuals and organizations grow beyond borders and boundaries, increasing their energy and leadership ability. Through coaching, training, and transformational holistic retreats, she helps entrepreneurs become better leaders in business and in life by understanding their energy potential. Natalya is also a member of the Entrepreneurs' Organization and serves as the President of EO Barcelona. She is a certified EO global speaker and a trained EO and YPO Moderator.
Here's a glimpse of what you'll learn:
Why Natalya Berdikyan founded Life By Design Academy
What went right for Natalya when she started her business?
The connection between leadership and wellbeing
Natalya's tips for managing energy — and how running a chocolate business drained her energy
Natalya talks about dealing with infertility and how she maintains hope
The best piece of advice Natalya has received — and her advice to women taking on new endeavors
Natalya's superpower and contact details
In this episode…
How can you live a life by design? Can you move from a place of struggle, overwhelm, and stress to a place of peace and satisfaction?
To live your best life and achieve maximum potential, it is essential to focus on your whole being — including your mental and physical health. Identify and concentrate on your source of energy and do less of the things that drain your energy. Natalya Berdikyan also advises entrepreneurs to believe in themselves and never allow anyone to bring them down.
Natalya Berdikyan, the Founder and CEO of Life by Design, joins Andrea Heuston in this episode of the Lead Like a Woman Show to talk about leadership, wellbeing, and energy. They also discuss the connection between leadership and wellbeing, tips for managing energy, and Natalya's experience dealing with life's challenges.
Resources Mentioned in this episode
Sponsor for this episode…
This episode is brought to you by Artitudes Design by Andrea Heuston. Artitudes Design is an award-winning creative agency that has been creating visual communication for Fortune 500 companies for over 25 years. They have worked with notable companies such as Microsoft, Starbucks, Expedia, and have also served startups and nonprofit organizations.
They specialize in connecting speakers with audiences by creating visual value with presentations and through the creation of motion graphics, video, and content.
To learn more about Artitudes Design, visit their website today. Checkout their portfolio to see their previous projects, and contact them today to find out how they can help you bring your business a cut above the rest.