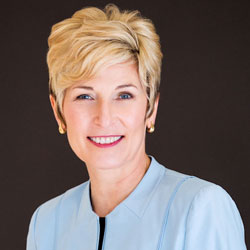 Dianna Anderson, MCC is the Founder and CEO of Cylient, a firm that helps clients create a coaching culture that drives momentum for enterprise-wide change. Through Cylient, she has developed various workshops including Coaching in the Moment®, Feedback in the Moment®, and Untying the Knot®, which have enabled leaders to take a coaching approach to daily interactions.
Dianna is the co-author of Coaching that Counts, offering a compelling business case for individual coaching in organizations. She is also a Master Certified Coach (MCC) through the International Coach Federation.
Here's a glimpse of what you'll learn:
How Dianna Anderson began coaching professionals — and how she founded Cylient
Dianna talks about coaching as a lifestyle and Cylient's coaching approaches
The power of safe and seen coaching cultures
What is change-able leadership?
Valuable tips for female leaders
In this episode…
Traditional leadership approaches often embody an authoritative model in which solutions are definitive and individuals receive criticism. Yet these methods are outdated and don't align with modern workforces and cultures. So how can you evolve your leadership style to facilitate meaningful change?
Master Certified Coach Dianna Anderson has harnessed the change-able leadership concept. This style utilizes coaching as a way of life to help professionals learn, grow, and create connections. If you want to make a lasting impact, Dianna says to create spaces where individuals feel safe, seen, and heard to foster collaboration and solve shared challenges.
Join Andrea Heuston in today's episode of the Lead Like a Woman Show as she chats with Dianna Anderson, Founder and CEO of Cylient, about what it means to be a change-able leader. Dianna also talks about coaching as a lifestyle, the power of creating safe and seen spaces, and Cylient's coaching process.
Resources Mentioned in this episode
Sponsor for this episode…
This episode is brought to you by Artitudes Design by Andrea Heuston. Artitudes Design is an award-winning creative agency that has been creating visual communication for Fortune 500 companies for over 25 years. They have worked with notable companies such as Microsoft, Starbucks, Expedia, and have also served startups and nonprofit organizations.
They specialize in connecting speakers with audiences by creating visual value with presentations and through the creation of motion graphics, video, and content.
To learn more about Artitudes Design, visit their website today. Checkout their portfolio to see their previous projects, and contact them today to find out how they can help you bring your business a cut above the rest.