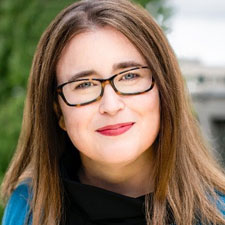 Megan McNally is a business lawyer, angel investor, and strategic advisor to purpose-driven people and organizations. She spent more than two decades as an organizational leader, consultant, educator, and public speaker, including executive roles with NPower Network, Washington State Bar Association & Foundation, and Pacific Science Center. In 2017, she founded Diana Sports TV, a streaming service dedicated to women's sports that failed resoundingly, and the FBomb Breakfast Club, a thriving peer support community of nearly 4,000 female founders and women business owners — which was a finalist for GeekWire's 2018 Newcomer Award.
Megan was named one of the most influential people of 2018 by Seattle Magazine and was awarded the Female Founders Alliance inaugural Champion Advocate Award. Today, she leads Doyenne Strategy, a consulting firm with offices in Seattle, New York, and clients around the globe. She also serves as a Legal Officer with Foundry Law Group. She is an active board member, advisor, and investor, and has been featured in GeekWire, Puget Sound Business Journal, and Seattle Lawyer. She is a two-time winner of the Moth storytelling competition and frequently speaks on community, leadership, and failure. Megan is happiest riding her bike or whale watching from her deck.
Here's a glimpse of what you'll learn:
What drives Megan McNally to make a difference in the world
Why Megan created FBomb Breakfast Club and how its culture came about
Megan talks about building a diversified supportive community through her club, explains how they transitioned to online events, and talks about their paid membership program
Where to learn more about the FBomb Breakfast Club
Why Megan started Diana Sports TV, the mistakes she made, and what she learned from the experience
What excites Megan about angel investments — and her advice to women with great business ideas
The most impactful guidance Megan has ever received and her current business focus
Megan's superpower and how to get in touch with her
In this episode…
In the quest to build a thriving business, many owners often find themselves making mistakes in the way they run their business, how they handle their customers, or through their products. How such mistakes or failures are handled separates the successful businesses from the non-successful ones.
Megan McNally experienced this when she started her own sports channel in 2018. She made a couple of mistakes that turned into great learning opportunities to help her build better businesses in the future. She now advises fellow women entrepreneurs to show up and build authentic businesses without the need to live up to other people's expectations.
In this episode of the Lead Like A Woman Show, Andrea Heuston is joined by Megan McNally, a strategic consultant, lawyer, and angel investor, to talk about cultivating a supportive community of female founders and learning from your failures. They also discuss the importance of creating products that meet customers' needs, knowing who your ideal customers are, and building authentic businesses.
Resources Mentioned in this episode
Sponsor for this episode…
This episode is brought to you by Artitudes Design by Andrea Heuston. Artitudes Design is an award-winning creative agency that has been creating visual communication for Fortune 500 companies for over 25 years. They have worked with notable companies such as Microsoft, Starbucks, Expedia, and have also served startups and nonprofit organizations.
They specialize in connecting speakers with audiences by creating visual value with presentations and through the creation of motion graphics, video, and content.
To learn more about Artitudes Design, visit their website today. Checkout their portfolio to see their previous projects, and contact them today to find out how they can help you bring your business a cut above the rest.