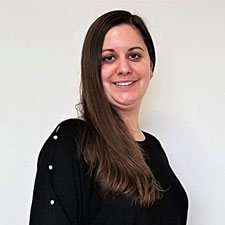 Danielle Lindblom is a life coach and the Founder of Danielle Lindblom Coaching. After a degree in mechanical engineering and a career in lean manufacturing, running events, and climbing to leadership positions, Danielle experienced debilitating anxiety that had her hiding in dark conference rooms. Being laid off in 2017 was a blessing in disguise — it's what she needed to make a big change in her life. She dove full time into her then side business of dog training and canine behavior consulting and lived a life that she loved. After five years of success with that business, she transitioned to life coaching, which brought all of her experiences and skills to the arena.
Danielle is an adventurer, a badass, and a life coach. She helps her clients cultivate more authenticity in their lives through self-acceptance, self-trust, and courage. With her background in change management, process improvement, and behavior science, she brings these skills and experiences to her work, helping people change their lives.
Here's a glimpse of what you'll learn:
Danielle Lindblom's background and how she started a dog training and behavior consulting business
How Danielle transitioned from dog training to Danielle Lindblom Coaching
What Danielle learned on her journey from the corporate world to entrepreneurship, and back to the corporate world
Danielle explains what she loves most about her current work, the most impactful piece of advice she has received from a mentor, and her advice to a woman thinking of quitting the corporate world to go her own way
Danielle talks about her experience with The FBomb Breakfast Club and what she is currently curious about
Danielle's superpower and contact details
In this episode…
Transitioning from the corporate world to becoming your own boss can be challenging for many new entrepreneurs. Most people shy away from self-employment because of the uncertainties associated with it and choose to stay formally employed — even when they are unhappy.
However, the changes witnessed all over the world in the past year have proven that uncertainties do exist, even in formal employment. The pandemic has also shown that there are many opportunities you can take advantage of — if you let go of fear and go after your dreams. Through her work as a life coach, Danielle Lindblom has been helping people build courage and have the confidence to go after their dreams, whether they are still in the corporate world or already in entrepreneurship.
In this episode of the Lead Like A Woman Show, Danielle Lindblom, a life coach and the Founder of Danielle Lindblom Coaching, joins Andrea Heuston to talk about carving one's path and finding happiness while at it. Danielle explains how her parents' entrepreneurial life impacted her career decisions and why she started a dog training business. She also talks about her transition to becoming a life coach and what she learned from her various career moves.
Resources Mentioned in this episode
Sponsor for this episode…
This episode is brought to you by Artitudes Design by Andrea Heuston. Artitudes Design is an award-winning creative agency that has been creating visual communication for Fortune 500 companies for over 25 years. They have worked with notable companies such as Microsoft, Starbucks, Expedia, and have also served startups and nonprofit organizations.
They specialize in connecting speakers with audiences by creating visual value with presentations and through the creation of motion graphics, video, and content.
To learn more about Artitudes Design, visit their website today. Checkout their portfolio to see their previous projects, and contact them today to find out how they can help you bring your business a cut above the rest.