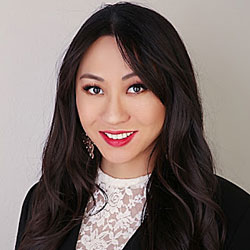 Daisy Jing is the Founder and CEO of Banish, a natural skincare line targeted in treating acne scars. Daisy suffered acne all of her life, and traditionally prescribed treatments didn't work for her. She studied pre-med and dermatology at Duke University and while there, she started her YouTube channel reviewing skincare products. Through her vulnerability and story of her skincare journey, the YouTube channel garnered over 70 million views. She started formulating her own products to help her skin, and before long, her audience wanted to buy whatever it was she was using. And so Banish was born.
Today, Banish is a multimillion-dollar business and its products are sold all over the world. Daisy is a TEDx speaker, Inc. 500 entrepreneur, Forbes 30 Under 30 entrepreneur, and most importantly, mom to a daughter and a Labradoodle. In her free time, Daisy loves fitness and teaches lagree pilates.
Here's a glimpse of what you'll learn:
Daisy Jing's journey to launch Banish and how she comes up with new products
What went right for Daisy when she started her business?
Daisy discusses her TEDx talk "A Tragedy Called Perfection" and shares her tips for dealing with imposter syndrome
How Daisy leads like a woman and balances motherhood with her career
The most impactful piece of advice Daisy has received
Daisy's superpower and how to get in touch with her
In this episode…
Despite all the pressure women face as entrepreneurs, business leaders, and mothers, it's very important for them to be authentic and show up as their best selves. This may not be easy, but from experience, Daisy Jing knows just how valuable it is.
While struggling to find a solution for her acne, Daisy created a YouTube channel where she shared her journey and struggles. She did this honestly and authentically and ended up amassing a big audience that was going through the same problems. When she started creating her own products to treat her acne, this audience asked for the products, eventually leading to the launch of Daisy's skincare brand.
In this episode of the Lead Like A Woman Show, Andrea Heuston interviews Daisy Jing, the Founder and CEO of Banish, about how she built her natural skincare business authentically. They also discuss Daisy's TEDx talk, share tips for dealing with imposter syndrome, and talk about the value of being your true self when building a brand. Stay tuned.
Resources Mentioned in this episode
Sponsor for this episode…
This episode is brought to you by Artitudes Design by Andrea Heuston. Artitudes Design is an award-winning creative agency that has been creating visual communication for Fortune 500 companies for over 25 years. They have worked with notable companies such as Microsoft, Starbucks, Expedia, and have also served startups and nonprofit organizations.
They specialize in connecting speakers with audiences by creating visual value with presentations and through the creation of motion graphics, video, and content.
To learn more about Artitudes Design, visit their website today. Checkout their portfolio to see their previous projects, and contact them today to find out how they can help you bring your business a cut above the rest.