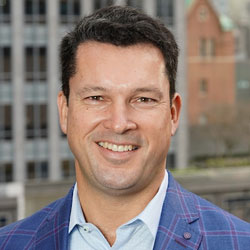 Christian Schiller is the Managing Director of Cascadia Capital, an independent middle market investment bank serving both private and public growth companies. He is also an active participant and leader in the family business segment across the US, working proactively with family business leaders to facilitate various strategic initiatives. With over 26 years of investment banking experience, Christian has closed more than 150 transactions, including buy and sell-side M&A, equity, and debt financing in various industries.
Here's a glimpse of what you'll learn:
Christian Schiller talks about his catalyst for supporting family businesses
How Christian's mother — one of the first female investment bankers — influences his career
Family business as the leading driver of economic growth
Noteworthy investment trends in women-owned companies
Tips for women seeking business funding: find a mentor
The most impactful advice Christian has received — and his future travel plans
How to encourage inclusive leadership
In this episode…
Studies reveal that investments in women-owned businesses declined from 2.3% in 2021 to 1.6% in 2022. This is because many women either don't understand how to access funding or aren't made aware of available options. How can you raise capital and establish yourself as a woman entrepreneur?
Christian Schiller believes in the power of mentorship and relationship-building. Women who want to fund their startups or sell their established businesses should consult with others who have accomplished those endeavors. The key to achieving any business goal is collaborating with your team and embracing diverse perspectives by remaining curious and humble.
Join Andrea Heuston in today's episode of the Lead Like a Woman Show as she interviews Cascadia Capital's Managing Director, Christian Schiller, about obtaining funding for women-owned and led businesses. Christian also talks about family business as a driver for economic growth, investment trends in women-owned companies, and how to promote inclusive leadership.
Resources Mentioned in this episode
Sponsor for this episode…
This episode is brought to you by Artitudes Design by Andrea Heuston. Artitudes Design is an award-winning creative agency that has been creating visual communication for Fortune 500 companies for over 25 years. They have worked with notable companies such as Microsoft, Starbucks, Expedia, and have also served startups and nonprofit organizations.
They specialize in connecting speakers with audiences by creating visual value with presentations and through the creation of motion graphics, video, and content.
To learn more about Artitudes Design, visit their website today. Checkout their portfolio to see their previous projects, and contact them today to find out how they can help you bring your business a cut above the rest.