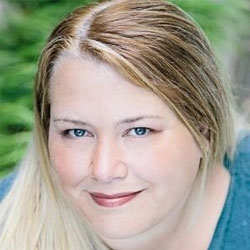 Danielle Johnson is an executive coach, leadership consultant, and the Founder of Cannon Leadership Group. Her work is focused on helping entrepreneurs and high-performing leaders define and achieve what's possible for them. Danielle has spent the past two decades coaching high performers and leading global and regional business organizations across high tech, retail, and finance industries. She has built a reputation with clients for being relationship-centric, intuitive, and masterful at knowing when to push outside of their comfort zones.
Danielle received her executive coaching certifications from the Hudson Institute of Coaching and the Coaches Training Institute, and she has a systemic team coaching certification from the Global Team Coaching Institute. In addition, she holds a PCC accreditation from the International Coaching Federation, the most rigorous and respected in the industry. As someone who thrives in personal and professional growth, her ideal day typically starts with a great French press and something that challenges her mind. Often asked what led her to coaching, Danielle will tell you that nothing lights her on fire more than witnessing another person showing up with her whole heart, leading with love, passion, excitement, and purpose to do something they have always dreamed of.
Here's a glimpse of what you'll learn:
Danielle Johnson shares her journey to starting Cannon Leadership Group
What went right when Danielle started her business?
Danielle talks about her process for working with clients — and explains what a coaching culture means
The benefits of having an empowered and motivated team
What Danielle loves about her work, the most impactful piece of advice she has received, and her advice to new women leaders on giving feedback
Danielle talks about her superpower and shares her contact details
In this episode…
How often do you give your team feedback? Is your feedback driven by your own insecurities or is it for the benefit of the employee?
Having worked with many leaders through one-on-one coaching and group training, Danielle Johnson advises leaders to create an authentic company culture that gives employees the room and tools to grow. Constructive feedback is a great starting point. Employees desire to work in an environment where they feel safe and are given the opportunity to explore their leadership potential. She, therefore, advises leaders to build trust with their team and give praise where it is due.
Danielle Johnson, the Founder of Cannon Leadership Group, joins Andrea Heuston in this episode of the Lead Like A Woman Show to talk about strategies for creating an empowered, motivated, and deeply connected workforce. Danielle discusses her process for working with clients, shares the benefits of giving feedback, and explains what a coaching culture means.
Resources Mentioned in this episode
Sponsor for this episode…
This episode is brought to you by Artitudes Design by Andrea Heuston. Artitudes Design is an award-winning creative agency that has been creating visual communication for Fortune 500 companies for over 25 years. They have worked with notable companies such as Microsoft, Starbucks, Expedia, and have also served startups and nonprofit organizations.
They specialize in connecting speakers with audiences by creating visual value with presentations and through the creation of motion graphics, video, and content.
To learn more about Artitudes Design, visit their website today. Checkout their portfolio to see their previous projects, and contact them today to find out how they can help you bring your business a cut above the rest.