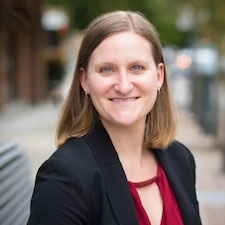 Caity Cronkhite is the CEO and Founder of Good Words LLC, a technical communications consulting firm based in Seattle, Washington and remotely around the globe. Good Words was created to help produce, edit, and deliver communications content for organizations, from startups to Fortune 500 companies. The goal is to intersect both technology and communication to relay complex, specialized information to any audience.
Caity was born and raised on a farm in rural Indiana before leaving her prairie roots to attend Carnegie Mellon University. After college, she moved west to start her career as a technical writer and eventually, an entrepreneur. Caity is passionate about using her personal and professional experience to uplift others, which includes advocating for rural policy change, advocating for increased labor and wage protections for freelance workers, and creating a company that empowers its employees with meaningful career opportunities, no matter where they live.
Here's a glimpse of what you'll learn:
Why Caity Cronkhite left technical writing to start her freelance writing career
How Caity turned her freelance writing into a business
What went right in Caity's company?
Caity's struggles in her career coming from a small, remote town
How bagpipes led Caity to Carnegie Mellon and, ultimately, Good Words LLC
Good Words' efforts to bridge a gap between writers and the new world of freelancing
Advice Caity would give to those starting their own business or freelancing career
In this episode…
How can you carve your own career path? What does it take to become a trailblazer and turn your passion into a business?
Coming from a small town, Caity Cronkhite faced many struggles in the journey to build her career. Looking for new jobs out of college was repetitive, and Caity was searching for something new and exciting. That's when she decided to step into freelancing, which led her to start a business, continue growing, and achieve her dreams.
Do you have a woman in your life who inspires or empowers you? In this episode of the Lead like a Woman Show, Andrea Heuston talks to Caity Cronkhite, Founder and CEO of Good Words LLC. Caity discusses leaving her career to start freelancing and, ultimately, create her business. She explains how each day looks different and sometimes you can only do so much — because your best looks different every single day. You don't want to miss this inspiring story!
Resources Mentioned in this episode
Sponsor for this episode…
This episode is brought to you by Artitudes Design by Andrea Heuston. Artitudes Design is an award-winning creative agency that has been creating visual communication for Fortune 500 companies for over 25 years. They have worked with notable companies such as Microsoft, Starbucks, Expedia, and have also served startups and nonprofit organizations.
They specialize in connecting speakers with audiences by creating visual value with presentations and through the creation of motion graphics, video, and content.
To learn more about Artitudes Design, visit their website today. Checkout their portfolio to see their previous projects, and contact them today to find out how they can help you bring your business a cut above the rest.