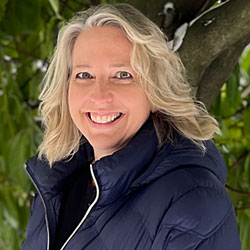 Bridgette Boudreau is an executive coach and the Creator of the Mosaic Life Purpose Framework. She has been a C-level executive for multimillion-dollar corporations, built businesses, turned others around, and advised public figures and CEOs. She has navigated working for horrible bosses, managed amazing teams, and cried in the bathroom at work on more than one occasion. All of these experiences informed her Mosaic Life Purpose Framework, along with her frustration at not being able to connect with her own sense of purpose.
Bridgette helps mid-life executives, solopreneurs, and seekers who give a damn to overcome obstacles and create meaningful lives. Her coaching style is like the love child of Bob Ross and Mary Poppins.
Here's a glimpse of what you'll learn:
Why Bridgette Boudreau started a coaching business
The importance of doing things that resonate with you
What led to the success of Bridgette's coaching company?
Bridgette talks about her Live On Purpose Now, No Waiting course and book
How Bridgette's Mosaic Life Purpose Framework works
Bridgette's advice to women who feel stuck and don't know what resonates with them
Bridgette talks about the most impactful piece of advice she has received from a mentor, her superpower, and where to learn more about her
In this episode…
Do you feel stuck in life and don't know what steps to take? Do you find it difficult to make changes in your life? Do you need a push to live purposefully?
Bridgette Boudreau knows that there is no perfect mix or perfect formula for life. She believes in the power of tapping into your curiosity and experimenting to find what "pings" for you. She advises her clients to learn from their mistakes and use the lessons learned to make better choices in the future.
In this episode of the Lead Like A Woman Show, Andrea Heuston interviews Bridgette Boudreau, the Creator of the Mosaic Life Purpose Framework, about living a purpose-filled life. Bridgette explains how her framework functions, talks about her upcoming book, and advises women who feel stuck. Stay tuned.
Resources Mentioned in this episode
Sponsor for this episode…
This episode is brought to you by Artitudes Design by Andrea Heuston. Artitudes Design is an award-winning creative agency that has been creating visual communication for Fortune 500 companies for over 25 years. They have worked with notable companies such as Microsoft, Starbucks, Expedia, and have also served startups and nonprofit organizations.
They specialize in connecting speakers with audiences by creating visual value with presentations and through the creation of motion graphics, video, and content.
To learn more about Artitudes Design, visit their website today. Checkout their portfolio to see their previous projects, and contact them today to find out how they can help you bring your business a cut above the rest.