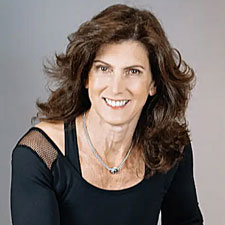 Joyce Shulman is the Co-founder and CEO of 99 Walks and Jetti Fitness, two wellness and walking lifestyle brands on a mission to forge connections and get a million women walking their way to better. Throughout her personal and professional life, Joyce's regular walking practice has been her key to managing stress, fueling creativity, and maintaining her health. After discovering that the research bears out all that she knew instinctively, she and her husband, Eric Cohen, founded 99 Walks and Jetti Fitness to help women experience what recent studies have shown: walking can improve decision-making and executive function, combat depression, increase creativity, and literally add years to one's life.
In addition to being the "Pack Leader" at 99 Walks and Jetti Fitness, Joyce is the Author of Walk Your Way to Better: 99 Walks That Will Change Your Life. She's also a TEDx speaker, podcaster, and consultant for companies and women's groups, where she shares her expertise about the power of authentic communities and the transformative impact of a consistent, intentional walking practice.
Joyce received her bachelor's in business management from the University of Maryland and her JD from St. John's University School of Law. After law school, she spent more than a dozen years as a New York City lawyer before trading her legal career for an entrepreneurial journey focused on what mattered to her most: family, community, and empowering women to get healthy, happy, and chase their dreams. She calls Sag Harbor, New York home where she lives with her husband, two teenagers, and her very sweet dog, Moose.
Here's a glimpse of what you'll learn:
Joyce Shulman talks about her entrepreneurial journey and the benefits of walking regularly
How spending time in nature leads to faster recovery for patients
How 99 Walks works — and its connection to Jetti Fitness
What went right when Joyce started her business?
Joyce talks about her book, Walk Your Way to Better, and how to build a personal walking habit
How Joyce leads like a woman, the most impactful piece of advice she has received from her father, and her advice to women struggling to start a health practice
Joyce's superpower and how to get in touch with her
In this episode…
Did you know that a 20-minute walk can help improve your creativity by 60%? Did you also know that walking helps boost your mood, combat depression, and improve your health?
Transforming a walk into a full-body workout is one of the best things women can do to transform their lives. For Joyce Shulman, every walk counts and her advice is to just start. There are many benefits of walking regularly that can have a big impact on your life.
In this episode of the Lead Like A Woman Show, Andrea Heuston interviews Joyce Shulman, the Co-founder and CEO of 99 Walks and Jetti Fitness, about how intentional walking can change your life. They also talk about the benefits of spending time in nature, Joyce's book, and how to build a personal walking habit.
Resources Mentioned in this episode
Sponsor for this episode…
This episode is brought to you by Artitudes Design by Andrea Heuston. Artitudes Design is an award-winning creative agency that has been creating visual communication for Fortune 500 companies for over 25 years. They have worked with notable companies such as Microsoft, Starbucks, Expedia, and have also served startups and nonprofit organizations.
They specialize in connecting speakers with audiences by creating visual value with presentations and through the creation of motion graphics, video, and content.
To learn more about Artitudes Design, visit their website today. Checkout their portfolio to see their previous projects, and contact them today to find out how they can help you bring your business a cut above the rest.