[Women of Wine] You Can't Drive a Car Looking in the Rearview Mirror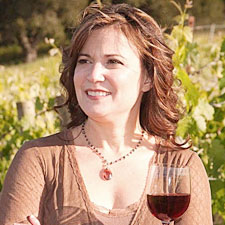 Deborah Brenner is the Founder & CEO of Women of the Vine & Spirits. She graduated from the University of Delaware with degrees in English and Journalism, and was soon hired by a television and film technology company that required international travel to countries for whom wine is a part of everyday life. After over 20 years in the male-dominated field of high-end technology — and owning a marketing and public relations firm — Deborah discovered during a fortuitous trip to Napa and Sonoma that, like herself, many women in the wine industry were under-recognized.
Compelled to tell their stories, she authored a best-selling collection of profiles on women in the wine industry, Women of the Vine: Inside the World of Women Who Make, Taste, and Enjoy Wine, which Wine Spectator named a Critical Read of 2007. Through the process of writing the book and championing its subjects, Deborah became inspired to enter the wine business herself, releasing wine from a first-of-its-kind collective of seven artisan women winemakers from Napa, Sonoma, and Paso Robles. This endeavor led to the inaugural Women of the Vine Global & Spirits Global Symposium in March of 2015. What started off as a one-off event and a grassroots movement quickly expanded into a global organization, with corporate and individual members connected across 23 countries. Women of the Vine Global & Spirits Global Symposium has become a catalyst for creating a positive impact in the alcohol beverage industry by giving women across the world a platform and a voice to thrive.
Here's a glimpse of what you'll learn:
Deborah Brenner's experience running a marketing and PR business in a male-dominated field and how that helped start her current business
Deborah talks about her inspiration to write Women of the Vine and her motivation to enter the wine industry
How Women of the Vine & Spirits was born and how the idea for Women of the Vine Global & Spirits Global Symposium came about
What has led to Deborah's success in the wine industry, the most impactful piece of advice she has received from a mentor, and how her foundation serves the community
Deborah's advice to a woman struggling to reinvent herself — and her future plans for Women of the Vine & Spirits
Deborah talks about her superpower, her work towards diversity, equity, and inclusion, and she shares her contact details
In this episode…
A person's character is not judged by how many times they fall down but by how many times they get up and move forward. It is normal to have self-doubt once in a while, but that should not make one abandon their dreams or stop pursuing their goals.
Women often have a problem facing their critical self which limits how much they can achieve in their lives. Deborah Brenner advises fellow women leaders to stop dwelling on mistakes made in the past. When things don't work out as planned, just bless, release, and move on to other things. You also need to have faith, believe in yourself, and work towards overcoming fear. Want to learn more about becoming a strong leader who empowers others?
In this episode of the Lead Like A Woman Show, Andrea Heuston is joined by Deborah Brenner, the Founder & CEO of Women of the Vine & Spirits, to talk about wine, social entrepreneurship, and being a woman in a historically male-dominated industry. Deborah also talks about overcoming fear, the Women of the Vine & Spirits Foundation, cultivating a more equitable world, and her advice to women on reinventing themselves.
Resources Mentioned in this episode
Sponsor for this episode…
This episode is brought to you by Artitudes Design by Andrea Heuston. Artitudes Design is an award-winning creative agency that has been creating visual communication for Fortune 500 companies for over 25 years. They have worked with notable companies such as Microsoft, Starbucks, Expedia, and have also served startups and nonprofit organizations.
They specialize in connecting speakers with audiences by creating visual value with presentations and through the creation of motion graphics, video, and content.
To learn more about Artitudes Design, visit their website today. Checkout their portfolio to see their previous projects, and contact them today to find out how they can help you bring your business a cut above the rest.