[Women President's Organization Series] The journey back to Hamburgers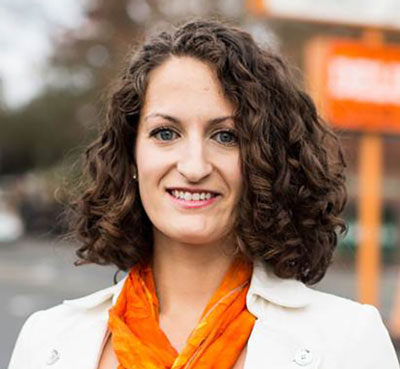 Jasmine Donovan is the President and CFO of Dick's Drive-In Restaurants. Being the granddaughter of one of the founders, she has worked in the business several times since she was 16 years old and started working full time on the executive team in 2013. Jasmine stepped into the role of President when her father, Jim Spady, retired in March of 2019.
Jasmine is on the board of the Seattle Metropolitan Chamber of Commerce, Mary's Place, and The Forum Foundation. She was recently recognized by the Puget Sound Business Journal as a Woman of Influence for 2019. She graduated from Hillsdale College with a Bachelor's degree in Mathematics and Chemistry in 2006.
Jasmine joined the Navy after college and was assigned as an instructor at the Naval Nuclear Power Training Command in Charleston, South Carolina. During her service, she was the Public Affairs Officer, earned her Master Training Specialist certification and was the Division Director of the physics teaching division. While in Charleston, she also earned her Master's degree in Business with an emphasis in Finance at Charleston Southern University. She currently resides in North Seattle with her husband and two sons.
Here's a glimpse of what you'll learn:
Andrea's appreciation of Women Presidents Organization (WPO)
Who is Jasmine Donovan?
How did Dick's Drive-In Restaurants start and what are their core values?
Jasmine talks about her grandfather's business philosophies
What it's like to be the first female President of Dick's Drive-In Restaurants after working for the company for a long time
Why Jasmine chose to go into military service and what she learned about leadership
The most challenging part of Jasmine's work at Dick's Drive-In Restaurants
The changes Jasmine had made in their company and her future plans for the food chain
How Dick's Drive-In Restaurants responded to the COVID-19 crisis and how they've been reaching out to their local hospital
Jasmine talks about a big mistake she made, what she learned from it, and the best piece of advice she has ever received
The advice Jasmine would give to a young woman who's just starting her career about leadership
Why Jasmine considers her ability to be comfortable with change as her superpower
In this episode…
Being in the military is a great experience and there's a lot to learn from being in service. Things such as discipline, leadership, and being of service to others are learned while in the military, and it's a great place to start practicing persistence and how to manage through a crisis.
Jasmine Donovan knows this first hand because her time at the Navy was one filled with enriching experiences that prepared her for when she eventually took the helm of their family business, Dick's Drive-In Restaurants. Being part of the business for a long time and developing the need to serve others has led her to make decisions that has not only allowed their company to help others in times of crisis, but also to maneuver beyond the challenges posed by being in one.
Join Andrea Heuston in this week's episode of Lead Like a Woman as she talks to Jasmine Donovan, about what it's like to be the first female President of one of Seattle's top restaurants. She also talks about the philosophies her grandfather had for the business and how it made their business stand out from competition, how she applies the things she learned while in the Navy to their company, and her future plans for Dick's Drive-In Restaurants. Stay tuned.
Resources Mentioned in this episode
Sponsor for this episode…
This episode is brought to you by Artitudes Design by Andrea Heuston. Artitudes Design is an award-winning creative agency that has been creating visual communication for Fortune 500 companies for over 25 years. They have worked with notable companies such as Microsoft, Starbucks, Expedia, and have also served startups and nonprofit organizations.
They specialize in connecting speakers with audiences by creating visual value with presentations and through the creation of motion graphics, video, and content.
To learn more about Artitudes Design, visit their website today. Check out their portfolio to see their previous projects, and contact them today to find out how they can help you bring your business a cut above the rest.