Something Good Will Come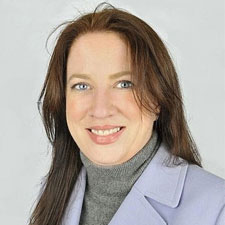 Donna Childs is the Founder and CEO of Prisere LLC, which she founded to develop capacity for climate and disaster risk resilience. Building on her previous experience as a senior executive in the reinsurance industry, Prisere was named one of the 50 most innovative startups by the Kauffman Foundation. Donna and Prisere have led projects for the United Nations Office for Disaster Risk Reduction and the Asian Development Bank. She serves as the Risk Partnership Advisor to the Climate Change Group of the World Bank's Global Facility for Disaster Reduction and Recovery.
Donna began her career as a Research Associate at Harvard Business School, where she contributed to research and case development on insurance and risk management topics. She then worked on capital strategies and capital raising for global insurance companies as an investment banker on Wall Street. She subsequently served as a Senior Columnist for Dow Jones, where her commentary on insurance and risk were featured in The Wall Street Journal. Donna is also the author of an acclaimed book on small business disaster preparation and recovery, a past winner at the International Women's Entrepreneurial Challenge, and recipient of the Woman Business Owner of the Year award by the National Association of Women Business Owners. She holds a BS from Yale University, an MBA from Columbia Business School, and is a graduate of the Owner/President Management Program at Harvard Business School.
Here's a glimpse of what you'll learn:
What inspired Donna Childs to start her own firm?
How the 9/11 tragedy impacted Donna's life and the lessons she learned from the experience
How Donna picked herself up and went into disaster recovery consulting after 9/11
Donna's journey to success with Prisere — and what the name 'Prisere' means for her
Donna talks about her book and explains how she leads like a woman
The best piece of advice Donna has ever received from a mentor and her advice for a woman working through a major life change
Donna talks about her superpower and shares her contact details
In this episode…
Regardless of how much people prepare for possible future disasters, sometimes the unexpected happens and tragedy strikes. This always leads to major shifts in people's lives, and in most cases, people experience long-term effects of the disaster.
After the 9/11 tragedy, Donna Childs' life changed. She was left homeless and had to close her business. Her emotional and physical being were affected, and she often had nightmares months after the disaster. She, however, was able to get back on track and help other people and businesses with disaster management through her company, Prisere LLC.
Donna Childs, the Founder and CEO of Prisere LLC, is Andrea Heuston's guest in this episode of the Lead Like A Woman Show, where she talks about her experience overcoming tragedy and helping others prepare for disaster management. Donna also explains how Prisere LLC was founded, her process of writing a book, and her advice for those working through a life change or disaster. Stay tuned.
Resources Mentioned in this episode
Sponsor for this episode…
This episode is brought to you by Artitudes Design by Andrea Heuston. Artitudes Design is an award-winning creative agency that has been creating visual communication for Fortune 500 companies for over 25 years. They have worked with notable companies such as Microsoft, Starbucks, Expedia, and have also served startups and nonprofit organizations.
They specialize in connecting speakers with audiences by creating visual value with presentations and through the creation of motion graphics, video, and content.
To learn more about Artitudes Design, visit their website today. Checkout their portfolio to see their previous projects, and contact them today to find out how they can help you bring your business a cut above the rest.